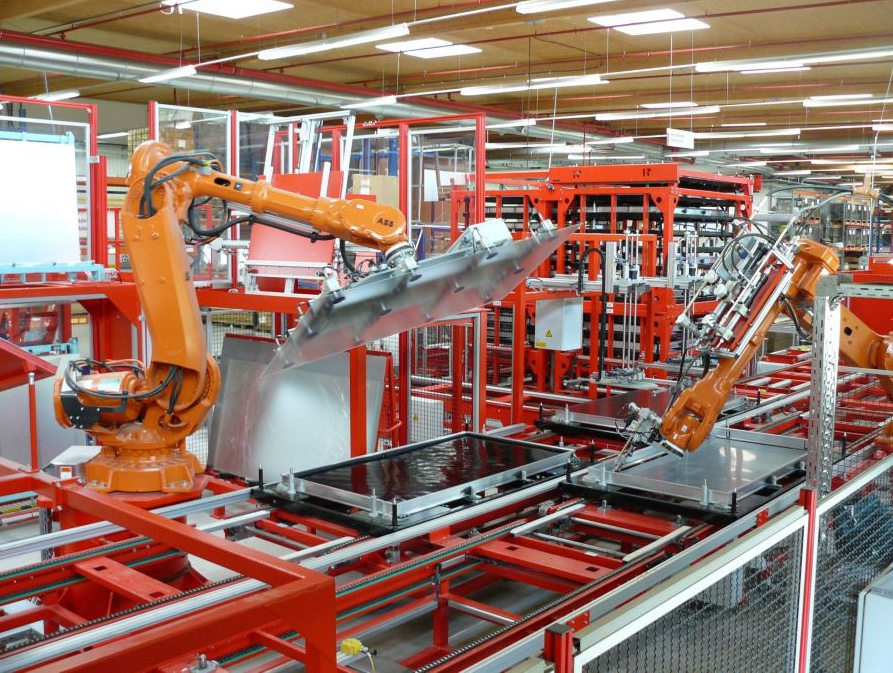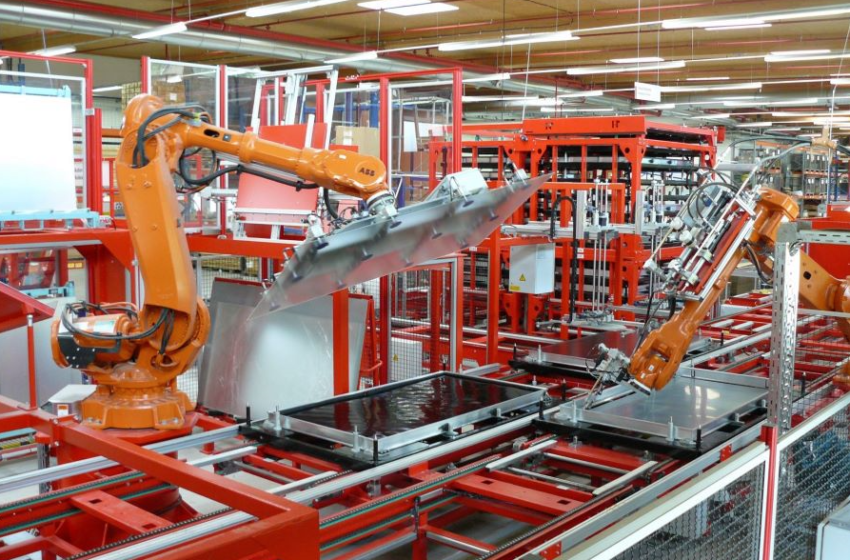 Strongly downsized, but crisis-ridden solar collector industry in Germany
In Germany, sales of solar collectors declined sharply between 2009 and 2019. A market shakeout was the result. The number of manufacturers of stationary collectors, i.e. flat-plate, vacuum tube and air collectors, has almost halved. Of the 38 German companies that research by Solrico for the World Map of the Solar Thermal Industry revealed in 2015, only 23 are still producing seven years later. Four companies have switched to OEM collectors, six have stopped collector production and in some cases have taken collectors out of their product range altogether, and four companies no longer exist at all and one was not available for further information. The market survey among the remaining manufacturers carried out by solarthermalworld.org in cooperation with the German news portal Solarthermie Jahrbuch has shown that many have reacted flexibly to the market consolidation and are better positioned today than they were a few years ago. They have optimised their production, cut costs, expanded their portfolio and in some cases even grown, despite the downward trend.
Map of German solar collector industry
The map of German manufacturers of stationary collectors contains 23 manufacturers, including two specialists for solar absorbers (Ruperti Werkstätten and Solab) and Narva, the only German manufacturer of vacuum tubes. The remaining assemblers of vacuum tube collectors source their evacuated tubes from China. Two other standouts are the German heating technology company Viessmann, which has a collector manufacturing site in France close to the French/German border, and Airwasol, which makes evacuated-tube air collectors.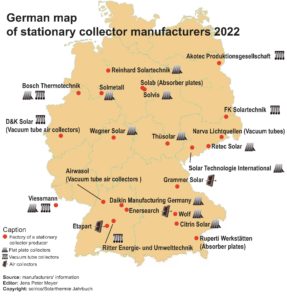 New products compensate for weak solar thermal market
Most German solar thermal companies have expanded their portfolios in recent years to compensate for the weak solar thermal market. Citrin Solar and Solar-Technologie-International (STI) have entered the photovoltaic systems business in addition to the solar thermal business. Solmetall now also manufactures PV mounting systems and solar shading components. Solvis has added heat pumps to its portfolio. Solab has expanded its product range to include components for cooling ceilings and PVT applications. Ruperti Werkstätten offers copper meanders for heated and chilled ceilings. Bosch Thermotechnik manufactures solar collectors as well as fresh water modules and home transfer stations at its Wettringen site. Viessmann has significantly expanded in the area of solar heating networks. In this way, the solar thermal companies have adapted to the situation and emerged stronger from the market crisis.
Dropouts and switchers
Among the companies that have completely withdrawn from the solar collector business are Oventrop and Alpha Innotec. Others have switched to OEM products. The most prominent example is Vaillant. In 2015, the heating technology company still had production facilities for flat-plate collectors in Gelsenkirchen, Germany and Nantes, France. Now Vaillant relies on outsourced solar collectors. Orange Energy has also discontinued its vacuum tube collector production.
Ratiotherm took over the production of its former supplier REM in 2015 and continued it until April 2022. "In the meantime we have started sourcing OEM collectors as the profitability of collector production on our small scale was not really there," said Ratiotherm Sales Manager Michael Westermaier. Solab purchased and integrated the manufacturing units of Forsun Solartechnik to offer fin absorbers in addition to full-plate absorbers.
KBB Kollektorbau, for years one of the largest collector manufacturers in Germany, has shifted production to its Tunisian partner company Biome. The company has discontinued the manufacture of large-scale collectors as no interested party could be found for this production area, according to KBB Managing Director Stephan Fintelmann.
In-house production of great technological importance
For many collector manufacturers who have stuck with the solar manufacturing business, a switch to OEM collectors is out of the question. "For us, collector manufacturing is part of our competence as a solar thermal supplier, which we want to retain," said Andreas Knoch, Technical Director of Wagner Solar. Viessmann is also sticking to manufacturing: "Solar thermal is an important component in Viessmann's integrated range of solutions. This will remain so in the future," is how Press Spokesman Wolfgang Rogatty justifies this decision. For Narva, this is also a geopolitical issue, as vacuum tubes are otherwise only manufactured in China. "We wanted to distance ourselves decisively from this new dependency and secure the know-how at the German location," said Development Engineer Tom Beier.
For Ritter Energie- und Umwelttechnik, in-house production is also important: "Only with our own collector production can we set our own standards in quality and innovative technology," said Ritter's Marketing Manager Benjamin Buortmes. "We are the only company producing evacuated tube collectors that uses pure water as a heat-transfer medium. So our own production is also technologically crucial for us." And Rudolf Ettl, Head of Solar Air Technology at Grammer, said: "We are sticking to manufacturing because we occupy interesting market niches with good market potential with our air collectors." Solvis also continues to produce flat-plate collectors, "out of ecological conviction and because of profitability," as Anja Aschenbrenner, Product Manager Solar Thermal, said. However, the company stopped manufacturing evacuated tube collectors as early as 2106 and switched to OEM in this field.
Optimising production to reduce costs
Two-thirds of the manufacturers stated in the survey by Solarthermalword.org that they have optimised manufacturing in recent years in order to cut costs. But with the solar thermal market weak for years, some manufacturers such as Citrin Solar have suspended investments in their production lines. However, the company has made its production line more flexible in order to be able to offer OEM customers adapted collector formats.
According to Wolf Sales Manager Torsten Müchler, the robot-assisted line at Wolf is advanced, so improvements are not necessary. Solvis has not made any major changes either, but has instead launched a low-priced basic collector.
At Narva, the market upswing is having a positive effect: "The significantly increased numbers of units make it possible to save set-up time, which means that more effective utilisation of the lines can be realised," said Narva development engineer Beier.
Companies listed on the German Map of stationary collector manufacturers 2022
Akotec Produktionsgesellschaft mbH: http://www.akotec.eu
Airwasol GmbH & Co. KG: http://www.airwasol.de
Bosch Thermotechnik GmbH: http://www.buderus.de
Citrin Solar: http://www.citrinsolar.de
D&K Solar: http://www.dk-solar.de
Daikin Manufacturing Germany: http://www.daikin-manufacturing.de
Etapart: http://www.etapart.com:
FK Solartechnik GmbH: http://www.fksolar.de
Grammer Solar: http://www.grammer-solar.de
Narva Lichtquellen GmbH & Co. KG: http://www.narva-bel.de
Orange Energy GmbH & Co KG: http://www.orange-energy.de
Reinhard Solartechnik: http://www.reinhard-solartechnik.de
Retec Solar: https://retec-solar.de/
Ritter Energie- und Umwelttechnik GmbH & Co. KG: https://ritter-energie.de/
Ruperti Werkstätten: http://www.rupertiwerkstaetten.de
Solab: http://www.solab-solar.com
Solar Technologie International GmbH STI: http://www.sti-solar.de
SolMetall: http://www.solmetall.de
Solvis: http://www.solvis.de
Thüsolar GmbH: http://www.thuesolar.de
Viessmann: http://www.viessmann.de
Wagner Solar GmbH: http://www.wagner-solar.de
Wolf GmbH: http://www.wolf-heiztechnik.de