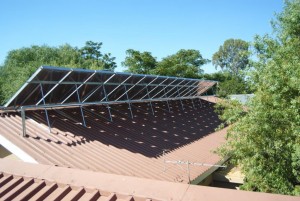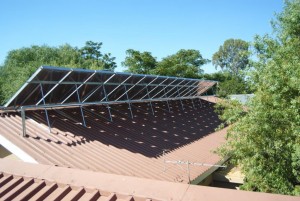 SOLTRAIN: Free Solar Heating Systems for Social Institutions
Two solar water heating systems – one at an old people's home and the other at an orphanage (photo) – started operating this March thanks to an initiative by SESSA members Holms and Friends, and the Austrian Development Agency (ADA). Together with another system completed last year, the installations are part of an ADA pledge in support of the SOLTRAIN (Southern African Solar Thermal Training and Demonstration Initiative) project, which is coordinated by Professor Dieter Holm and Henning Holm of Holms and Friends (formerly Omnibus Engineering). Promised are more than 50 solar water heating systems (see http://www.solarthermalworld.org/node/3466).
Photo: SESSA
At the Villieria Old Age Home in Pretoria, Holms and Friends set up 18 collectors with a total area of 33 m² and linked them to a pumped system with an external heat exchanger, a pressurised tank, a membrane expansion vessel and an electric pump loop system. They also installed 15 collectors at the Kestell Children´s Home in the Northern Cape. The collectors with a total surface area of 27 m² were then connected to a system similar to the one at the Villieria Old Age Home. The system provides hot water for the home's 40 residents.
Part of SOLTRAIN's objectives is to accelerate the transition to clean energies by creating awareness among policy decision makers and raise the standard of service during the supply and installation of solar water heating systems. South Africa, Namibia, Mozambique and Zimbabwe are among the partner countries of the three-year programme, which ended on 30 April 2012. Currently, ADA is thinking about extending the programme for another three years.
With support from the ADA and Austrian company AEE Intec, SOLTRAIN has trained employees of small and medium enterprises, students, policy makers and administrators in how to install solar water heaters. After completing the SOLTRAIN course, graduates are expected to share their acquired know-how in dissemination courses, in order to spread their knowledge and raise the standards of the solar water heating industry. "Nine Train the Trainer seminars led to the qualification of about 400 persons," says Rudi Moschik from AEE Intec. "The partner countries hosted another 24 Dissemination Courses with about 600 participants and nine workshops for policymakers with roughly 200 attendees."
"South Africa and its neighbours have a huge potential for solar water heating. Yet, adoption of the technology is very slow," says Henning Holm. "The ADA and AEE Intec hope to change the situation with their sponsorship of the SOLTRAIN project. The rationale is that if customers feel confident about the service they are receiving and are sure they are not at the mercy of inexperienced fly-by-nights, the industry can only benefit from it."
In addition to investing in training, ADA has pledged to co-sponsor more than 50 solar thermal system projects for members of this course. A requirement for the sponsorship is that a system has to be installed in a social institution, such as a hospital, orphanage or an old people's home. The system must also meet ADA's strict standards.
"There were more than 230 applications for the demonstration plants – about 174 from South Africa, 28 from Zimbabwe, 23 from Namibia and 7 from Mozambique," says Moschik. "74 of these plants had been chosen for support. By autumn 2011, this had resulted in the construction of 20 demonstration plants with a total collector area of 367m ²."
More information:
http://www.sessa.org.za (Host of SOLTRAIN in South Africa)
http://www.SOLTRAIN.co.za
http://www.holmsandfriends.co.za
http://www.entwicklung.at
http://www.aee-intec.at