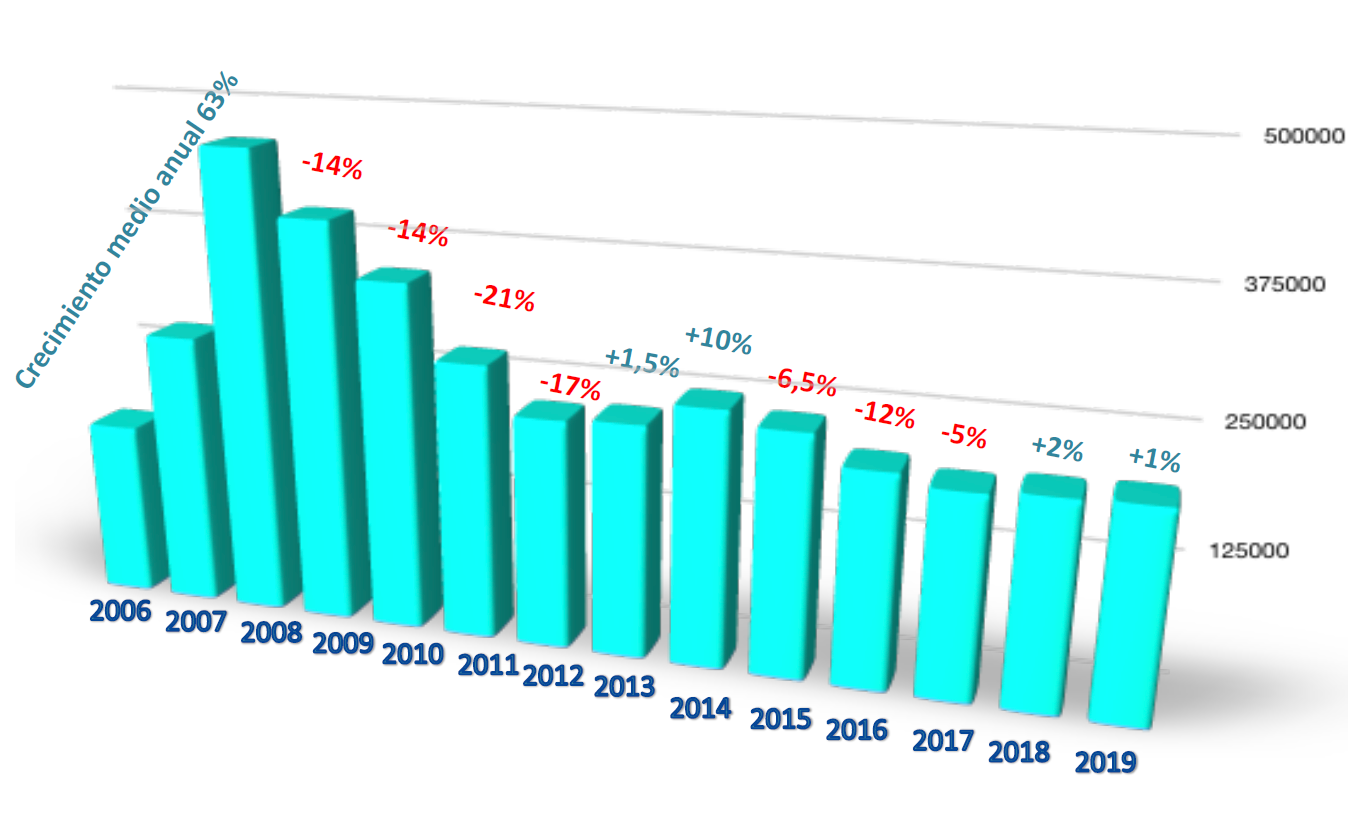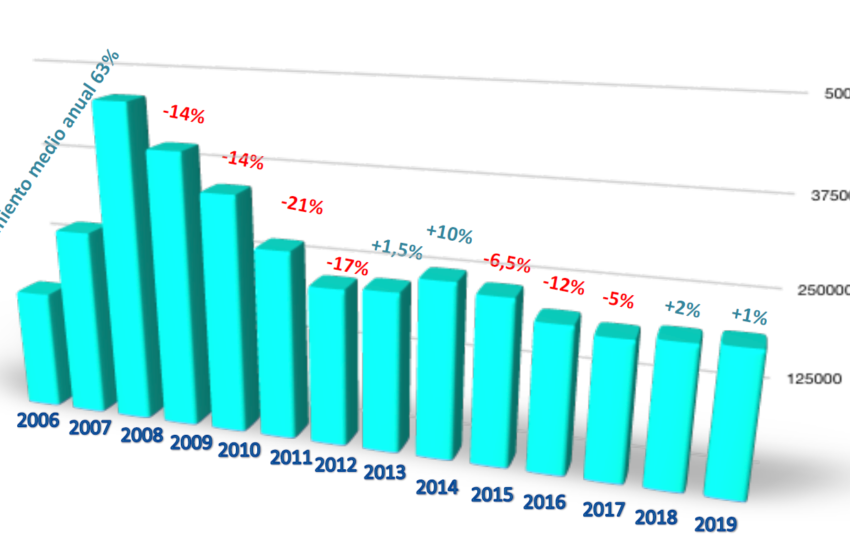 Solar requirement dropped from building regulations in Spain
During the last 8 years, the Spanish market for solar water heating was fairly stable, with capacity additions ranging between 200,000 and 250,000 m2 annually (see chart). In 2019, the total was 207,000 m2 (145 WMth), 1 % above the prior year. Much of the growth was the result of Spain's building regulations known as CTE. However, recent revisions to these rules, set to take effect in 2021, have cast doubt on the medium-term success of this regulated market. Industry representatives believe that the Spanish government is prioritising electrification over solar heat. 
Source: ASIT
The main driver of stability in this market was
CTE
, which required the installation of solar thermal systems to meet some of the hot water demand in new housing and construction projects by using renewables. The expectation was that if Spain's economy (and construction sector) was thriving, the solar thermal industry would benefit as well. For example, 88 % of the newly installed collector capacity last year was the result of CTE rules, according to an annual market survey conducted by ASIT, Spain's solar energy association (see the attached PDF). However, years of stability or modest growth might soon come to an end.
Regulations revised
In December 2019, the Spanish energy ministry approved a modified version of the building rules, also known as Royal Decree 314/2006. According to the document, the revisions were the result of Directive 210/31/EU. It required that "minimum energy efficiency requirements be updated and revised to reflect new technology advancements in the construction sector."
The changes most likely to affect the solar thermal industry are found in HE4, a section titled Minimum renewable energy contribution for meeting sanitary hot water demand (see pp. 61 to 63 of the attached PDF). While the prior building regulations stipulated a minimum solar share in hot water demand in newbuilds, the revised document is now calling for a minimum 60 % to 70 % renewable share when meeting hot water needs but without mentioning solar thermal.
"We are not happy with the changes, but we have to accept that it is difficult to maintain the solar thermal requirement and that it is politically correct to let building owners decide what renewable option they want," said Pascual Polo, ASIT's General Secretary. "Now, we have to demonstrate that solar thermal is the best choice for producing domestic hot water. But our fear is that the trend towards electrification will have many developers choose heat pumps, even if they are not the best solution for every newbuild," said Polo.
The new CTE rules also stipulate that buildings that consume large amounts of electricity or those with an area of more than 3,000 m2 must use locally generated clean power. For all intents and purposes, this makes PV mandatory for large buildings, whereas solar thermal is merely an option. However, the new rules will not enter into force before 2021 because of the current Covid-19 pandemic so they will start affecting the market no earlier than 2022.
Supporting large solar heat projects
Although it remains to be seen precisely what impact the revised regulations will have, some other industry stakeholders, who wished to remain unnamed, agreed that selling residential solar water heaters looks less and less like a promising market in the medium term. Nevertheless, there is a silver lining: For example, Polo expects several solar district heating systems to be started up this year across the country.
In addition, the Spanish Institute for Energy Diversification and Saving, IDEA, has announced that it will launch a new support programme this autumn. Although the institute has yet to provide more details on the scheme, Polo believes it will support large systems considering that there is a growing trend towards installing industrial heat and district heating plants, as well as centralised hot water systems at hotels or hospitals, all over Europe. ASIT itself has already been focusing on commercial applications via its
SOLPLAT Platform initiative
, which has brought together about 40 companies, public institutions and research facilities with the aim of promoting industrial and solar district heating systems.
This Spanish-language guide on solar thermal energy was published in April and is almost 300 pages long (see the PDF below). 
Around the time the regulations were revised, ASIT and IDAE also published a best practice guide. Drawing on 40 years' experience of installing solar thermal systems in Europe and 15 years' complying with Spanish building regulations, its authors have put together guidelines on how to properly install solar thermal systems. "This new guide, based on our experience in the industry, offers all the right pieces of advice to improve solar thermal installations," said Polo. He added that he still has hopes for a turnaround in the Spanish market: "Despite today's hype about electrification, solar thermal has its niche and logical place in the energy system of tomorrow."
Organisations mentioned in this news article: