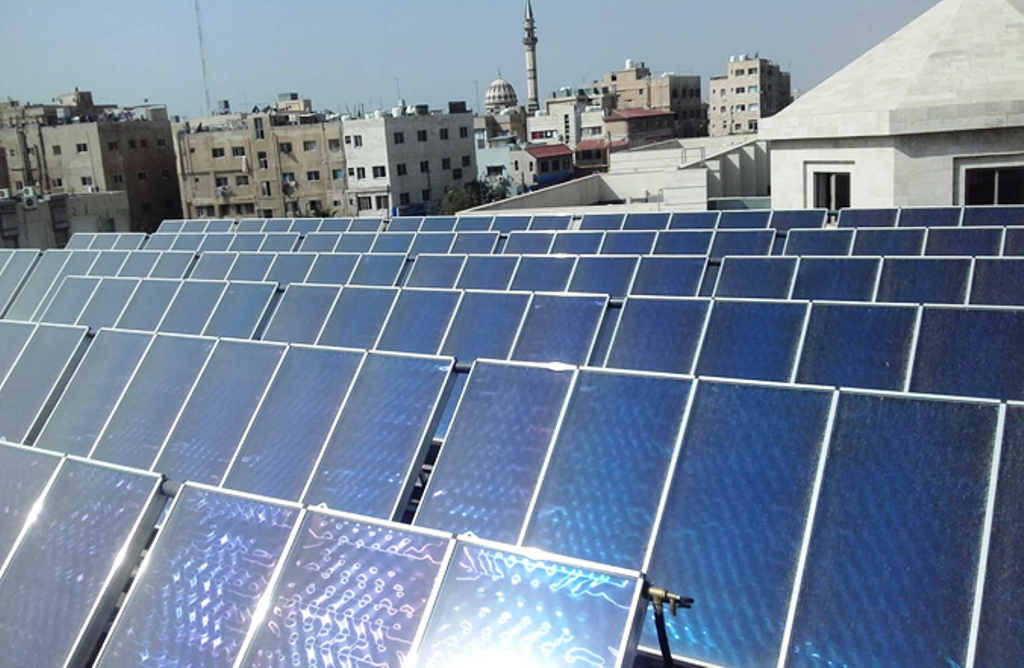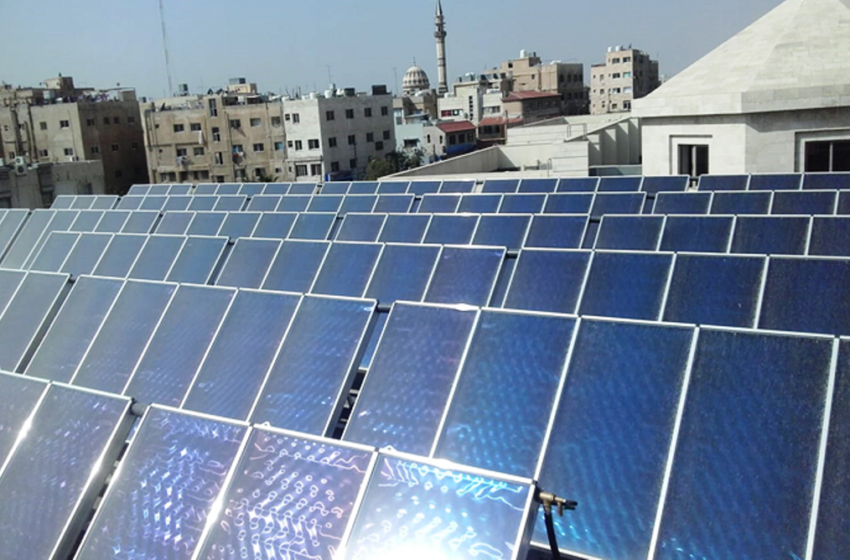 Solar hot water system at Jordanian hospital pays off in 4.4 years
In June, Al Bashir Hospital, the largest public hospital in Jordan, started up a 1,133 m² (0.8 MWth) solar field which it said would provide 10 % of the heat required per year. Large 12.5 m² collectors had been installed by Millennium Energy Industries (MEI), a local supplier of turnkey solar thermal systems, atop the main building, one of 50 structures on the hospital grounds. MEI's project sheet shows that the Jordanian Dinar (JOD) 500,000 investment (USD 700,000) will have a payback period of about 4 years and 5 months.
Photo: MEI
EuropeAid provided 80 % of the investment as part of a project called Renewable Energy and Energy Efficiency Demonstration (REEED) and MEI the rest. "We contributed financially to this installation to demonstrate the potential that large-scale solar thermal projects have both in Jordan and all over the region. Now that the system is in operation, we can show it to prospective clients," explained Hisham Mikhi, General Manager of MEI's Thermal Division.
MEI cooperated with Austrian research institute AEE INTEC to design the system and estimate on-site demand. The design specifications and consumption estimates were later analysed and confirmed by Jordan's National Energy Research Center, an independent third-party organisation that was contracted by MEI. The collectors were delivered by Greenonetec, a manufacturer based in Austria.
The system has been monitored continuously since it was started up in June. "The first four months saw promising output, and we expect the annual yield to match estimates," said Mikhi.

| | |
| --- | --- |
| Effective area of solar collectors | 1,133 m² |
| Capacity of storage tanks (3 in total) | 15,000 m³ |
| Investment cost estimate for entire system | JOD 500,000 (USD 700,000) |
| Specific investment costs | 441 JOD/m² (618 USD/m²) |
| Average daily SHW production at 60 °C | 60,000 litres/day |
| Estimated annual energy savings | 1,000,000 kWh |
| Specific annual energy savings per m² | 883 kWh/m² |
| Diesel fuel saved per year | 176,000 litres |
| Diesel cost avoided per year (diesel at 0.65 JOD/litre) | JOD 114,000 |
| Payback period in years | 4.4 |
Key figures from planning phase of Al Bashir Hospital project
Source: MEI
There are 49 other buildings at Al Bashir Hospital, which has a bed capacity of 1,000 and about 7,000 patients a day, and their heat demand is met by devices such as steam or hot water boilers or electric geysers.
Demand-side monitoring conducted in 2014 revealed that the health facilities needed about 2 million litres of diesel to produce enough heat each year. The solar system has been used primarily for two buildings: One contains the surgical department and the other the department for internal medicine. Mikhi said that three heat exchangers linked the solar installation to the existing hot water supply system inside the buildings. Those heat exchangers were used to

Provide heat for the calorifiers of the hot water system.
Provide thermal energy for the hot water loop.
Preheat the steam boilers.
"The hospital complex has a lot more buildings that have free space and where solar thermal systems could be installed," said Mikhi. However, the European Union had imposed budget limits on this first demonstration plant. The Ministry of Health in Jordan has benefitted the most from the project.
MEI began offering turnkey solar thermal systems for industrial, commercial, public and residential customers in 2002. The installation of a
25 MWth district heating plant in Riyadh
, Saudi Arabia, has been its largest project to date. The company provides engineering, procurement and construction (EPC) solutions and offers heat supply and leasing contracts. It is headquartered in Amman and employs a staff of 40.
Organisations mentioned in this article: