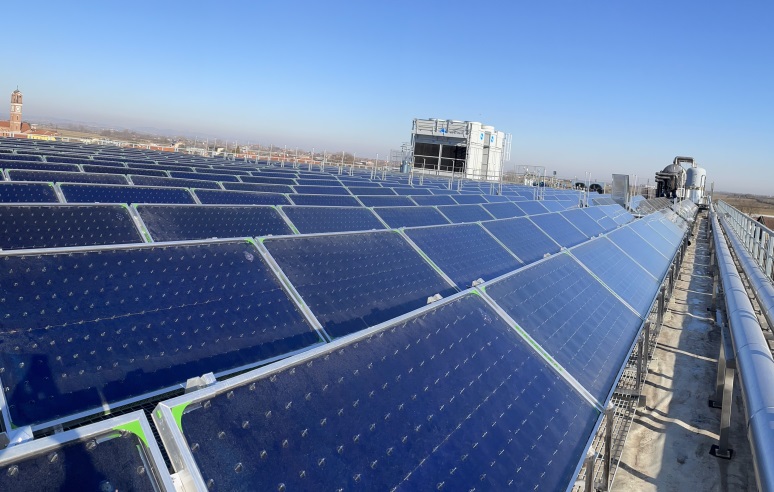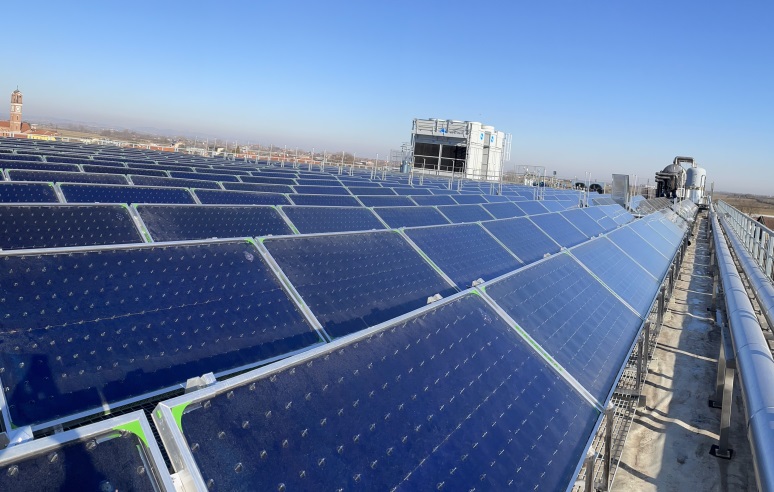 "The solar thermal sector is able to scale up production rapidly"
"We want multi-megawatt solar heat plants to become a no-brainer for clients in industry and the energy sector", states Guglielmo Cioni, Vice President of Business Development at TVP Solar. The Swiss company manufactures special high-vacuum flat panels that offer good yields, even on colder days of the year. Cioni wants to push the message that solar thermal is an available and reliable technology that has the capability to play a significant role in the energy transition. That's why TVP Solar became gold sponsor of the 30th anniversary of Solar Heat Europe. The Brussels-based association is celebrating its anniversary with a high-level event titled Heat decarbonization: a strategic imperative for the EU and a Gala Dinner on 20 June.
Photo: TVP
TVP Solar has been through a steep learning curve in terms of project development over recent years. Up to the end of 2020 the company had only put into operation some smaller demonstration plants with its unique high-vacuum flat plate panels. The breakthrough came in 2021, when the Swiss firm commissioned five plants totalling 2,265 kW (3,236 m2) spread around the world. Among them a 1,020 m2 collector field that preheats the feedwater for a steam boiler owned by the Saudi Arabian oil company Saudi Aramco; a 784 m2 field feeds into the district heating network of the utility company SIG in Geneva, Switzerland. And also in the same year a 600 m2 field was set up at a beverage factory (Martini e Rossi) in northern Italy and a 400 m2 installation at one of the food processing factories of Pepsico in Brazil. Two more plants for dairies were under construction, a 240 m2 field in Switzerland and 2,380 m2 in California.
Peak yield per area
According to Cioni, it is important to standardise solar heat infrastructure investment from the financial point of view. This means that investors will be able to assess and validate the low risks associated with solar heat projects and rely on secure margins and return on investment.
TVP Solar has reached a milestone on this path. Monitoring data from the first 12 months of operation of the Swiss solar district heating field at SIG has proven that the predicted yield was reached.  The 784 m2 (gross area) collector field produced a total of 539 MWh between January and December 2021, which was more than the predicted 516 MWh. This production is measured above the return temperature of 73°C, which is the typical return temperature of 2nd generation district heating networks.
The monitoring data corresponds to a specific yield of 687 kWh/m2, which is significantly higher than the average solar yield of the Danish district heating plants. According to a report published in 2018 by the IEA Solar Heating and Cooling programme the average annual yield from 48 SDH systems with non-evacuated flat plat collectors in Denmark was only 409 kWh/m2 gross collector area. In 2021 the irradiation at the SIG plant was 1,211 kWh/m2, so the collector field worked with an average efficiency of 56.7 %.
"We mainly address clients who want to achieve a high annual yield per unit area and maximise the solar heat harvest during the cold season", concluded Cioni. The evacuated casing around the absorber reduces energy losses, especially during cold winter days.
TVP factory fully booked for 2022
Demand has been rising enormously since the energy prices exploded because of the Ukrainian war. Cioni confirmed that they receive a lot of requests from clients who want to become independent of gas. His company has been able to sign several contracts this year, which guarantees further growth. Among them is the first solar heat delivery contract with an industrial client in Italy. Furthermore, they won the tendering for a 6,000 m2 solar district heating plant in the German town of Sondershausen together with the Danish company Aalborg CSP.
"Our production is fully booked for 2022 and we are currently raising equity to finance a significant increase of production capacity in our factory in Avellino, Italy" said Cioni. The plan is to triple the capacity from the current 80,000 m2 per year to more than 240,000 m2.
Solar Heat Europe's anniversary
The solar thermal industry is investing heavily in new production capacities in Europe, thus creating jobs and avoiding fossil fuel imports. "The solar heat sector is able to scale up deployment rapidly and deliver 100 % European-made emission-free heat," stated Cioni who has supported Solar Heat Europe (SHE) as a Board Member since December 2020.
These messages are an important part of the Solar Thermal Roadmap that SHE will officially launch during the policy event for on Monday 20 June in Brussels. Cioni also made clear that solar thermal can replicate the massive volume of investment in the PV sector if solar heat solutions are recognised as "investment grade assets" by the broader infrastructure investment community. A substantial increase in volumes will also reduce the price of solar heat. The Solar Thermal Roadmap quotes the learning rate of the successful Danish solar district heating market, where weighted-average levelized costs of heat dropped by 18 % for each doubling of the installed base.
High-tech collectors require intensive quality control in production
To finance its growth, in 2021 the company completed a new round of equity raising totalling CHF 65 million (Swiss francs) with private investors. TVP Solar benefits from the many years of experience of the founder and CEO, Piero Abbate, who worked for 20 years in private equity and investment banking, focusing on financing and the development of high-tech start-ups.
Cioni confirmed that in this initial phase of capacity roll out TVP Solar will keep its factory in Italy rather than de-localising to cheap-labour countries in order to consistently guarantee the top quality of its products. "We manufacture a high-tech product which needs intensive quality control steps during production."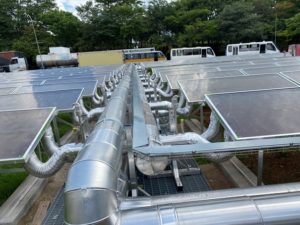 Among the TVP clients are multi-national corporations like Pepsico. The photo shows their 400 m2 field, which was commissioned in November 2021 and delivers hot water of up to 65 °C for various production processes.
Photo: TVP Solar
Organisations mentioned in this article:
TVP Solar
Solar Heat Europe
Solar Thermal Roadmap for Europe
Aalborg CSP
Danish LCOH learning rate