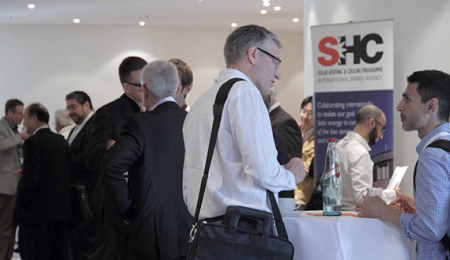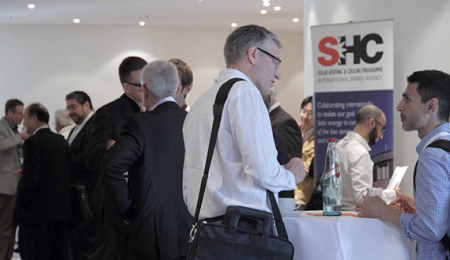 SHC2015: Conference Combines New Technologies, Market Analysis and Policies
The development of the international solar heating and cooling markets is posing great challenges: Whereas the residential market has been on the decline, market demand is shifting towards complex industrial solutions, large-scale plants for solar district heating and innovative solutions for building integration. The leading international solar thermal conference, the SHC2015, will address these key issues facing the industry. The three-day event will take place in Istanbul between 2 and 4 December 2015. The conference programme of SHC2015 has now been available online.
Photo: PSE/SHC2013
Researchers, industry representatives and policy advocates from all around the world are expected to participate in this annual conference under the auspices of the IEA's Solar Heating and Cooling Programme. The conference is organised by PSE AG, the experienced German service provider for scientific conferences, in cooperation with the European Solar Thermal Industry Federation (ESTIF) and GÜNDER, the Turkish Section of the International Solar Energy Society.
The conference programme combines keynote speeches, discussions about many of the current technology developments, sessions on technology application and poster presentations. You will find a PDF of the programme overview attached to this news piece. The subsection
daily program
 will show you online the list of topics and speakers. There are sessions focusing on the most important commercial real-life applications of solar thermal technology, such as solar process heat, solar district heating, building integration, as well as solar cooling.
For the first time, an Industry Day will be part of the scientific conference created by ESTIF. "We invite our members to join the ESTIF General Assembly on Wednesday and to take part in the Industry Day for a reduced fee on Thursday," ESTIF's Secretary General, Pedro Dias, says.
Key topics of high interest to the industry:
Energy Future in Europe: The opening session of the Industry Day will highlight the EU Commission's Strategy for Heating and Cooling and the role of these technologies in the future energy mix.
New opportunities: Specialists from different countries share their latest insights on market development primarily in the MENA and Gulf region.
Global certification removes market barriers: How mutual recognition of test and inspection reports saves industry costs.
Global perspective: An international CEO panel discusses the technology and market outlook.
Registration can be made
online
. The standard registration deadline ends on 23 November. Please note that registration on-site will not be possible.
More information: