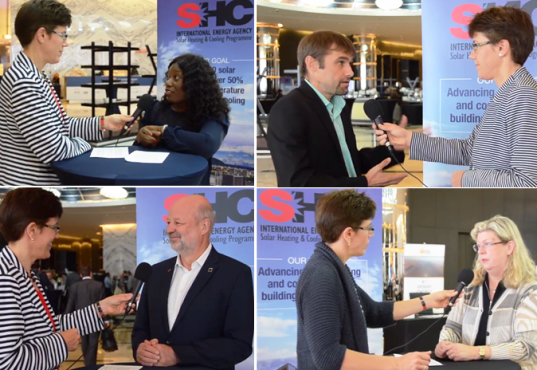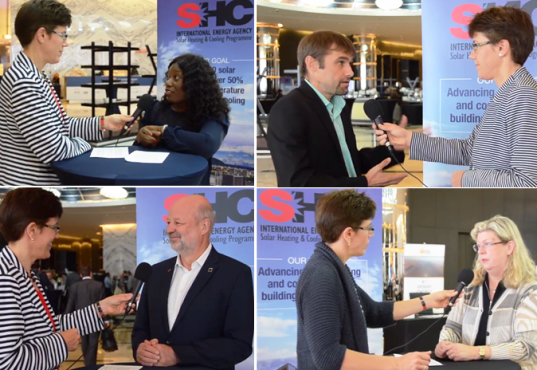 SHC / SWC 2017: Twelve Experts Highlight Success Stories on Tape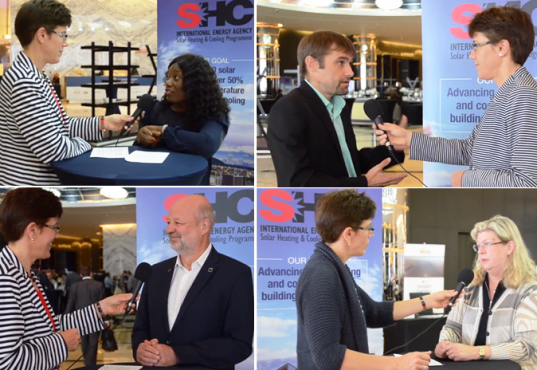 From 30 October to 2 November 2017, the SHC 2017 and the SWC 2017 in Abu Dhabi brought together 500 researchers, industry specialists and other experts on solar heating and cooling. The 12 video interviews that solarthermalworld.org recorded at the joint conference outlined trends in today's global solar heating and cooling sector and highlighted policy fields where urgent action is required. The videos were financed by the IEA Solar Heating and Cooling Programme and the European Copper Association. See the complete playlist.
This news piece focuses on four of the interviews with experts from the field:
Shift towards solar in Namibia
Namibia is southern Africa's leader in solar. The technology could offer energy security in a country heavily dependent on fuel and electricity imports, said Helvi Ileka, Head of the Centre for Renewable Energy and Energy Efficiency at the Namibia University of Science and Technology. It could provide not only water heating and power for homes, but also heat for the food and mining industry and water desalination. Ileka explained how the roadmap by the Namibian government indicated a shift towards solar.
video
Solar Cooling: a success story in the making
In the Gulf region, most electricity is consumed for cooling. If air conditioning powered by PV or solar thermal collectors were to meet a greater portion of energy demand, it could leave more fuel for export. Daniel Mugnier, Head of the IEA SHC research platform
New Generation Solar Cooling & Heating Systems
, said that intensive international cooperation was necessary to introduce highly robust, easy-to-clean and well-performing technologies in the Gulf states. In his view, the experts' meeting in Abu Dhabi was the "beginning of a big story".
video
Important milestone on path towards 100 % renewables
The best policy for small- and medium-size renewable projects was still feed-in tariffs, said Hans-Josef Fell, President of the Energy Watch Group. A study by his organisation has shown how renewables could supply 100 % electricity around the globe throughout the entire year. Solar thermal, however, would be a fundamental prerequisite for the complete decarbonisation of all energy sectors and essential to carbon-free industrial and residential heating and cooling, desalination and chemical processes.
video
Right to light in urban areas
In ancient Rome, urban citizens had a 'right to light,' which limited the densification of cities and provided sufficient daylight as well as natural ventilation. With the advance of electric lighting and mechanical ventilation, the rule faded into obscurity. Maria Wall, Head of the IEA SHC research platform
Solar Energy in Urban Planning
, explained why an increase in the utilisation of solar energy and daylight made it necessary to include solar access conditions in urban planning. As a last resort, users of solar active systems installed on roofs and facades should have the option of going to court to solve shading issues because of a neighbour's new construction.
video
Websites of the organisations mentioned in this article:
Namibia Energy Institute at Namibia University of Science and Technology:
http://nei.nust.na
New Generation Solar Cooling & Heating Systems research group: