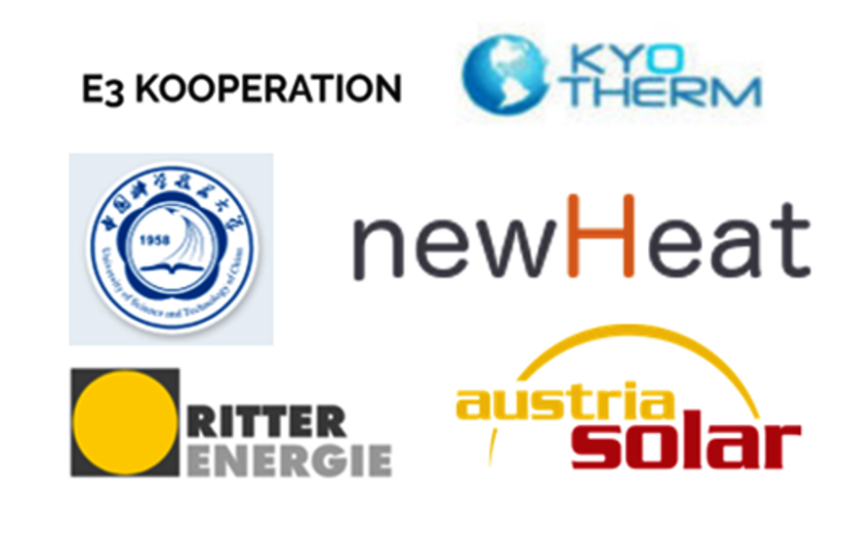 SHC solar award: Six successful business models
The focus of this year's Solar Award of the IEA Solar Heating and Cooling Programme (IEA SHC) will be on technology suppliers and financial service providers that have created successful financing mechanisms. The jury has chosen six finalists, one of which will be presented with the SHC Solar Award at the IEA SHC's joint conference with the ISES Solar World Congress (SWC) in Santiago, Chile, on 6 November 2019. The finalists are based in one of several countries, namely Austria, China, France or Germany (see the logos above). Each of them has made great strides in growing the market via innovative business or financing models, such as heat supply contracts (ESCO) and performance guarantees.
SHC Solar Award winner 2017: Ingmar Höbarth, Managing Director of Climate and Energy Fund, AustriaPhoto: IEA SHC
"We have received a large number of high-level applications for this year´s award," said Ken Guthrie, who chairs the award committee. "The various nominations show innovative and dynamic sales strategies that have a positive impact on demand, especially from commercial customers." The award ceremony will take place during the banquet for the joint SHC 2019 and SWC 2019 conference. Its organisers expect over 400 solar experts from all corners of the globe to catch up with the latest in research, technology and market development.

The jury narrowed the list of applicants to the six described below.
E3 Cooperation, Germany
: Technology supplier
Enertracting
, utility EAM and the University of Kassel have joined forces to offer tailor-made heat supply contracts to commercial customers. To date, a total of 21 solar thermal plants have been implemented as part of E3 Cooperation or are currently in planning or under construction, such as the 3,000 m² solar field for a long-distance gas network operator. The solar energy collected by it will be used to supply heat to pressure regulators to lower the pressure of gas transported long distance when it reaches the distribution pipelines. According to the application, Enertracting has been financing the project with the help of government loans, equity capital and, above all, money borrowed from citizens' energy cooperatives. The involvement of EAM has also increased business activities, since the utility supported E3 with financing and loan guarantees.
Kyotherm, France
: This French-based third-party investor intends to make external financing as popular in the solar heat sector as it currently is in the PV industry.
Kyotherm
reached a milestone last July when it signed a heat purchase agreement with Malteries Franco-Suisses, a French malt business, that is planned to be supplied with heat from a 15,000 m² solar field. The price of heat agreed to in the contract has been competitive. The application says that Kyotherm has significant expertise in structuring and financing thermal energy systems thanks to 19 completed projects on geothermal, biomass, waste energy and energy saving. This expertise makes it a strong partner for suppliers of turnkey solar heating and cooling installations.
NewHeat, France
: This project developer creates special purpose vehicles (SPVs), a common part of renewable power generation projects. The SPV owns the solar thermal system but is a company without staff and is created for the sole purpose of financing and operating one or a bundle of solar industrial heat projects.
NewHeat
employees are responsible for project development and administration and see to it that the SPV remains the majority shareholder. NewHeat has finished its first project using this business model at the
Condat paper mill
in southwest France, where it installed a single-axis tracking system comprising 4,213 m² (3.4 MW
th
) of flat plate collectors. According to the application, the business has already agreed to put up another four systems with a total of 35,000 m² at industrial sites in France.
USTC, China: The University of Science and Technology has successfully implemented a clean space-heating programme in Qinghai province focusing on the traditional brick beds called 'kang'. Heated by cooking fire from adjacent rooms, it is used by nearly 175 million people in the rural parts of northern China. A kang's thermal mass can keep the temperature at a comfortable level all day round. The research team of Professor Jie Ji at USTC has developed a solar hybrid system that consists of a new type of solar air collector and is based on an energy distribution strategy guaranteeing a high level of thermal comfort indoors. According to the application, 11,000 households have received financial support for installing a kang-air hybrid solar system between 2013 and 2016, which has improved their quality of life.
Ritter Energie- und Umwelttechnik, Germany: A German-based collector manufacturer and turnkey system supplier, Ritter has been offering yield guarantees to commercial customers since 2007. More and more use these guarantees to safeguard investments in solar thermal, Ritter confirmed on its application. The company's business model generates demand by engendering trust in the technology and encouraging continuous improvements to products and systems.
Austria Solar
: This solar thermal industry association has published a comprehensive guide on
Public participation models for solar district heating
. It shows the opportunities and requirements of large, publicly funded solar heat systems by providing real-life examples and offers help to plant operators, solar companies and service providers. The association's aim is to use the great public interest in public participation in PV systems and wind farms, which are sold out within days, and direct it towards SDH. Austria Solar underlines that there is great, untapped SDH potential, as more than 1,500 biomass boilers run at only half capacity in summer.
Finalists' websites:
SHC Solar Award winner 2017: Ingmar Höbarth, Managing Director of Climate and Energy Fund, Austria