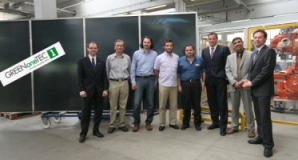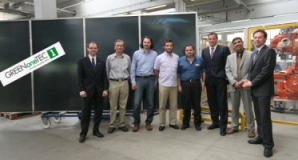 Saudi Arabia: Greenonetec Delivers 3,600 collectors to Riyadh
Three partners, one project: Representatives from all three participating companies – Millennium Energy Industries, Jordan, and Greenonetec and AEE Intec, both based in Austria – met for their kick-off meeting at the collector factory of Greenonetec.
Photo: Greenonetec
The 3,630 collector panels for the new Princess Noura Bint Abdulrahman University for Women in Riyadh, Saudi Arabia, are manufactured at the Greenonetec factory in Austria. Currently the world's largest solar heating project, a plant with a collector area of 36,305 m2, will be installed on the roof of the central university building. It would surpass the solar thermal installation in Marstal, Denmark, which has been the largest one so far, covering 19,875 m2.
Millennium Energy Industries (MEI), one of the leading providers of solar heating and cooling solutions in the Middle East and North Africa, was awarded the contract for the solar plant in January 2010. The company is responsible for planning, designing and building the huge, flat-roof system, which will feed the solar energy into the district heating system of the campus.
The campus, which is already looking like a small city will offer space for 40,000 students, lecturers and other staff, 13 faculties, accommodations, research facilities and a hospital.
In June 2010, MEI asked Greenonetec (GOT) to supply the needed collectors in record time. According to a press release from GOT at 16 June 2010, the solar plant is to be ready for test operations by the end of 2010. The university itself is thought to be completed within two years, i.e., at the end of 2011.
In order to supply the large number of collectors on time, GOT already started upgrading its production line for large-surface collectors in March this year. The GK 3000 series collectors with a gross surface of 10 m2 have been adapted to meet specific MEI requirements for a site in the Arabian desert with heavy sandstorms. They are made with a special solar glass and equipped with a modified mounting system, which can withstand much stronger winds and satisfies a customer's need for an optimal use of available space.
GOT entered into an agreement with Austrian company AEE Intec, the Institute for Sustainable Technologies, to benefit from their technical expertise on solar thermal applications worldwide. The system is designed to cover the hot water demand of the campus and provide space heating in the winter period from November to February. It is also designed to enable optimal coverage rates in winter, and must handle overheating situations in summer when the campus is closed.

More information:
http://www.aee-intec.at
http://www.greenonetec.com
http://www.millenniumenergy.co.uk