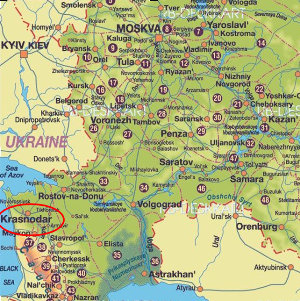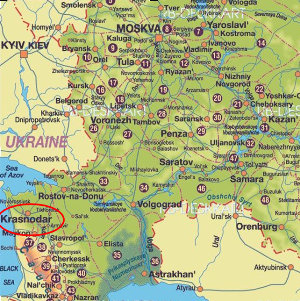 Russia: Krasnodar Krai may become Centre of Solar Industry
Russian solar thermal system supplier Yuzhgeoteplo is planning to build a new solar collector factory, according to an interview by Russian business paper Delovaya Gazeta Ug with the company's General Director Vitaly Butuzov. The company is located in Krasnodar Krai, one of Russia's largest south-west regions at the coast of the Black Sea. The total investment volume is said to be about Russian Rouble (RUB) 52 million (USD 1.7 million). Construction will most likely begin in 2012.
Source: http://www.welt-atlas.de
The announcement has caught the attention of the Russian solar thermal sector – still a very small industry: Newly installed collector area per year is estimated to be around 15,000 m2 and the total collector area in operation adds up to as little as 100,000 m2. So far, most collectors have been imported to Russia from abroad, in particular from China. In addition to Yuzhgeoteplo, there is only one other major collector manufacturer: military company NPO Mashinostroyenia in Moscow.
 
The largest chunk of the investment costs for the new collector factory is expected to be covered by the authorities of the Krasnodar Krai region. The production output of the new plant could reach 10,000 m2 of collector area per year, making it Russia's largest solar thermal plant. Krasnodar Krai is a sunny region with around 1,400 kWh/m2a and a favourable geography. Solar energy has already been in use for quite some time in Krasnodar Territory: In recent years, 102 solar systems with a total collector area of 5,000 m2 were built.
If factory construction were successful, similar solar thermal factories might be established in other regions of Russia. Unfortunately, development is slow because the national government does not place much emphasis on solar heating and cooling – despite a national target of increasing the renewable energy share to 4.5 % of the total Russian energy demand by 2020.
The slow market growth can also be explained by economic factors, such as relatively long payback periods for solar thermal installations, as well as high revenues from exported Russian oil and gas, because of which solar energy does not play any role in national policy. Most scientists and inventors in today's solar thermal sector have already been familiar with this technology since Soviet times.
More information:
Yuzhgeoteplo, Krasnodar, Russia: +7(861)225-41-83 (no website available)
NPO Machinery http://www.npomash.ru
Eugene Gerden is a freelance journalist based in Moscow and focused on renewable energies (gerden.eug@googlemail.com).