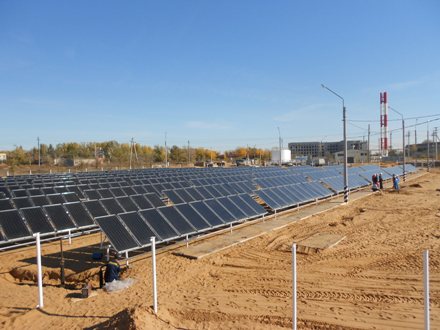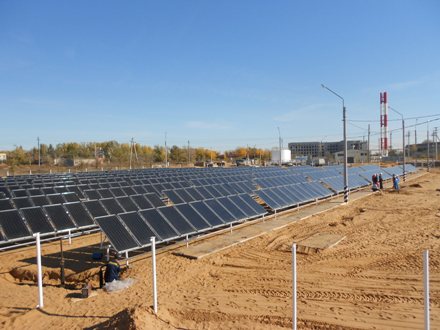 Russia: Astrakhan's Solar District Heating Plant
It is said to be the largest solar thermal plant in Russia: 2,200 collector modules by German heating boiler manufacturer Bosch Thermotechnik have been installed next to a district heating system in Narimanov in the Astrakhan region in southwest Russia. The district heating plant includes 5 new gas boilers from Bosch Thermotechnik with a total of 30 MW. The complete state-of-the-art heat supply unit – gas and solar – was financed by Astrakhan's regional government. It was commissioned in October 2012 and inaugurated in June 2013 after a fairly short planning time. The existing district heating system with separate pipes for hot water and space heating provides heat for the 11,600 inhabitants of Narimanov. The 4,400 m² collector field feeds into the hot water pipe system.
Photo: Bosch Thermotechnik
According to a presentation by Bosch Thermotechnik, Astrakhan's regional authorities had initiated the project to save energy costs. It started in December 2011 and took two months to develop. Then, the regional government invited companies to tender until May 2011 and signed the contract with the supplier in June 2011. According to the company presentation, Bosch won the tender against one local supplier and several international solar thermal system providers from Italy and China. The collectors of type Buderus CKN 1.0 and CKN 2.0 with 2 m² of gross collector area each were produced in Bosch Thermotechnik's Portuguese factory in Aveiro.
Crisis in Russia blocks or delays public energy-saving projects
"There is no installation of similar project size in Russia," the head of the regional government, Alexander Zhilkin, emphasised during the inauguration ceremony, according to an online report on the website of the Astrakhan Export Support Centre.

"We visited the site several times while it was being installed and after commissioning, we carried out a technical inspection at the request of the client," confirms the Bosch Thermotechnik office in Russia. The system has been installed, operated and monitored by Russian company Termo-Tehnologia for the past two years. This company was also involved in project development by convincing the regional authorities to invest in the gas-saving solar technology, the above-mentioned presentation points out.
Termo-Tehnologia was founded in 1997 and is now one of the leaders in constructing and operating heat supply units across the Astrakhan region. Monitoring data from the Bosch plant has not been made available publicly. "We experienced some demand from state authorities for larger solar heating plants, but this was before the crisis," the Bosch Thermotechnik office explains. "Now, quite a lot of projects for energy-saving technologies have been blocked or delayed."
More information: