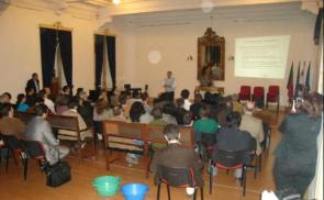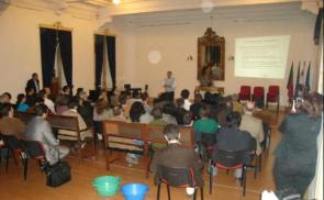 Portugal: Training Programme for 5,200 qualified Installers
The only way to receive the certificate of competence (CAP) as an installer in Portugal is to attend a 44- to 70-hour training, depending on one's previous knowledge of the respective systems. The entire course costs around EUR 600.
Source: clubsetubalense.pt
/08/tcc/802-282.jpg
Portugal's Agua Quente Solar (Hot Water Solar) programme was launched almost six years ago and has so far qualified more than 5,200 of its participants. The rules for issuing a "certificado de aptidão profissional" (CAP – certificate of competence) are laid down in ordinance 1451/2004, which became effective on 26 November 2004. The authority responsible for issuing certifications is the Directorate General for Energy and Geology (DGEG). The course itself is offered by 23 different organisations.
"The courses are a very good introduction to the solar thermal business," João Correia de Oliveira, Account Manager, Sales and Engineering Support Team Leader at Portuguese collector manufacturer Aosol, says. Nevertheless, "They offer too few hours of practical lessons". De Oliveira suggests the DGEG issues a CAP to an installer only after setting up an actual system – not straight after completion of the course.
To date, there are several different ways to qualify for the participation in the Agua Quente Solar Programme, which means candidates will have to fulfil one of the following requirements:
Possessing a high school diploma
Having been granted other certificates equivalent to European standards
Having installed two or more systems over the last two years in accordance with Agua Quente Solar regulations
The programme set up by the DGEG consists of seven main modules:
Planning and Organising an Installation Project
Coordinating and Supervising Installation
Coordinating and Supervising Repairs
Testing Installation Performance according to Standards
Guaranteeing Maintenance of an Installation
Providing Technical Assistance to Clients
Preparing Reports and Technical Documentation
The list of requirements to become a certified installer is long, but is worth it. At the end of the training course, participants are tested during a final evaluation on issues of both a theoretical and practical nature in front of a certified jury. The three main topics for it are: curriculum analysis, technical interview, and a theoretical and practical test.
After finalising the programme, a CAP is valid for three years. The installer has to prove to authorities he installed at least one system a year and participated in an updated training course lasting for at least 35 hours, in order to renew his licence. Renewing a license will require an installer to apply 90 days prior to its ending.
For more information about the Agua Quente Solar Programme, please got to http://www.aguaquentesolar.com/noticiaseventos/noticia.asp?id=7
http://www.aguaquentesolar.com/noticiaseventos/e6/index.asp
Or, contact:
Ing. Mr. Piedade Roberto
piedade.roberto@dgge.pt&gt
Text was written by communication specialist Hanna Schober based in South Africa.
Schober@solrico.com