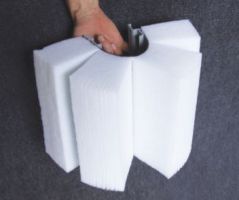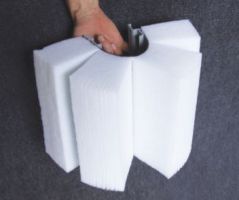 tisun_fleece_insulation
A New Alternative: Fleece Insulation Made of tapered Polyester Fibre
Patented feature of a new fleece insulation made of polyester fibre: Bending it in the other direction will easily show you the tapered form of the insulation.
Photo: Tisun
Tisun is now supplying its large tanks with a new type of fleece insulation. The Austrian tank and collector manufacturer has developed an alternative to common insulation material, because an unexpectedly high demand for combined storage tanks in summer 2008 resulted in a substantial shortage of the melamine resin needed for insulating the components. At that time, monthly market volume in Germany more than doubled within just a few weeks.
Until now, melamine resin insulation was the standard and top-quality insulation material for tank volumes of more than 500 litres. According to Tisun, the newly developed fleece insulation can keep up with it: "Because it is made of multiple tapered segments, the fleece insulation fits onto the tank wall and sleeves perfectly, prevents flue leakage and guarantees dimensional stability," Head of Development, Arnold Teufel, stated in a press release, which was distributed at the Intersolar fair in May. This cutting of taper keys is a patented feature of the new insulation.
Tisun has now begun to equip its tanks of more than 650 litres with the new fleece insulation and selling them to customers at no extra cost, compared to melamine resin insulation. The Austrians signed an exclusive contract with the fleece supplier, who does not want to be mentioned. They sell tanks in two ways – under their own brand name and as an OEM version.

More information:
http://www.tisun.com