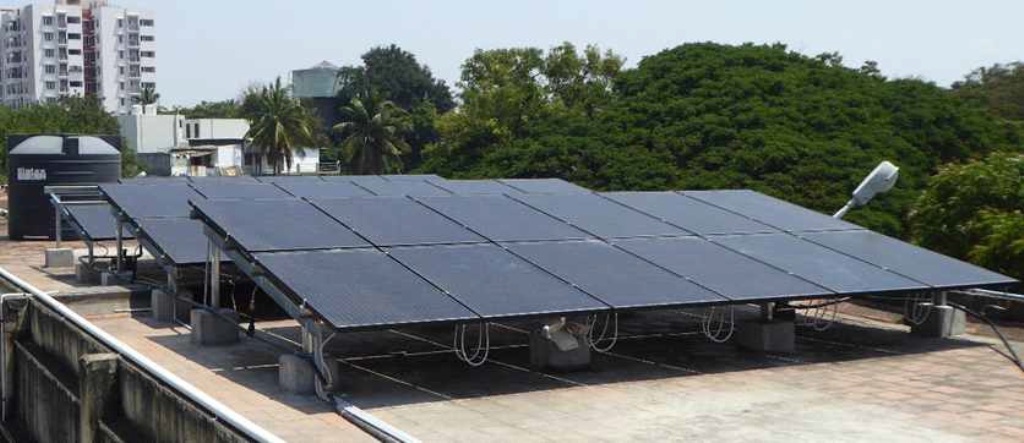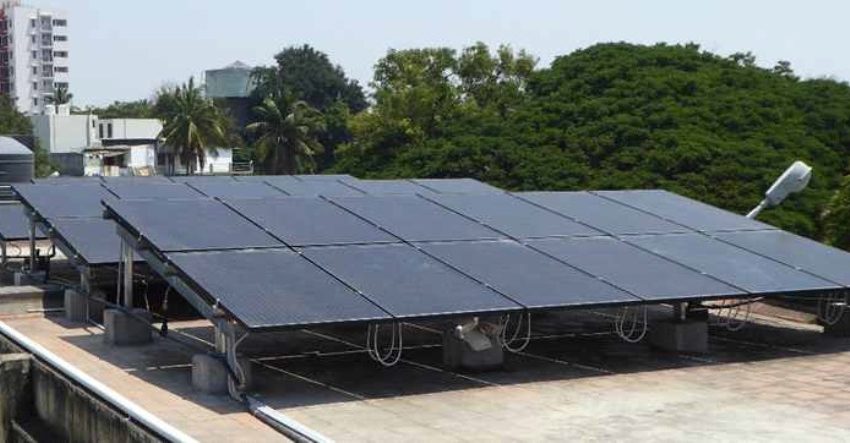 Monitoring planned for six PVT systems across India's climate zones
Germany's Agency for International Cooperation, also known as GIZ, has initiated a demonstration project using German-made Photovoltaic Thermal (PVT) panels at six sites in India. The photo shows one such installation, which provides 20.1 kWp of photovoltaic power and 47.6 kWth of thermal capacity for the 

Government 

College of Technology in Coimbatore. Each system is planned to be equipped with a monitoring unit. The project is being implemented in cooperation with the Ministry of New and Renewable Energy and will run until the end of 2020. 
Photo: GIZ
"The project is a first step towards introducing a proven and simple PVT technology. We are looking forward to seeing promising results," said Joerg Gaebler, Principal Advisor at GIZ India. The idea is to assess PVT output across the country's climate zones and introduce PVT technology should there be demand for heat and electricity but limited space on rooftops. Computer simulations conducted by German research institute Fraunhofer ISE and other criteria, such as ease of manufacturing, were analysed before selecting German PVT supplier
2Power
for closer evaluation.
The GIZ also intends to support the flagship initiative Make in India by promoting local manufacture and cutting costs to make PVT panels economically viable. "Our understanding is that 2Power is, in principle, open to the ideas of granting a licence on the technology and forming a joint venture with an Indian company," said Gaebler.
A PVT panel combines a PV module and a solar thermal absorber. Waste heat is removed from the back of the module and transferred to a water loop at about 30 % to 40 % efficiency, providing temperatures of 50 °C to 80 °C. The cooling at the back increases the electrical yield compared to a standard PV module. It is this increased yield that requires observation in India's climate zones.
| | | |
| --- | --- | --- |
| Beneficiary | Location | PVT capacity |
| Government College of Technology | Coimbatore (south) | 20.06 kWp 47.6 kWth |
| Snehalaya Home | Ahmednagar (west) | 8.85 kWp, 21.0 kWth |
| Government Hospital | Chandigarh (north) | 20.06 kWp, 47.6 kWth |
| Ananda Dairy | Hapur (Himalaya) | 16.2 kWp, 38.2 kWth |
| Sir Sunderlal Hospital, Banaras Hindu University | Varanasi (north) | 17.7 kWp, 42.0 kWth |
| Civil Hospital | Shillong (northeast) | 4.5 kWp, 10.5 kWth |
Six PVT demonstration systems, of which three are already commissioned, one will shortly be completed and two will follow until the end of the year.
Source: GIZ
The financial burden will be shared in all projects: GIZ provides the PVT modules, while the organisations that profit from their use is responsible for installation and maintenance. There are also plans to offer maintenance training.