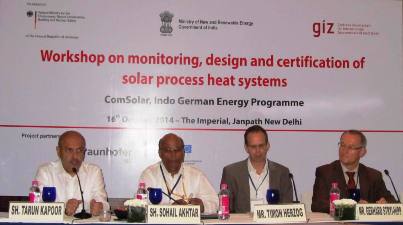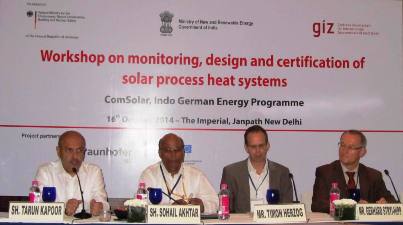 India: 27 Field Visits of Solar Process Heat Installations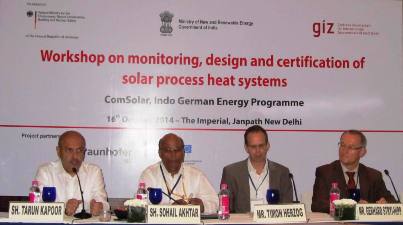 In cooperation with the Ministry of New and Renewable Energy (MNRE), the German Agency for International Cooperation, GIZ, organised a workshop in New Delhi in the middle of October to present the first findings and measures within SoPro lndia, a project which aims at analysing and optimising existing industrial solar heat installations. The German Fraunhofer Institute for Solar Energy Systems, Fraunhofer ISE, and the Andhra Pradesh Industrial and Technical Consultancy Organisation (APITCO) showcased their results from the first year of research. The photo shows the members of workshop panel (from left): Tarun Kapoor, the MNRE's Joint Secretary (Solar), Dr Sohail Akhtar, Director of Solar Thermal at the MNRE, Timon Herzog from GIZ India, and Dr Gerhard Stryi-Hipp, Head of Energy Policy at Fraunhofer ISE.
Photo: Malaviya Solar Energy Consultancy
APITCO visited 27 solar industrial installations, of which 20 were still operational, three dismantled and four no longer in use. All of them came into operation between 2005 and 2013, with some of the older systems having been shut down in the meantime. The size of the unpressurised installations ranges from 72 to 1,365 m2 of collector area. Based on the country's measurement standard, which is not numbers of square metres installed but litres of hot water per day delivered, the installations produce between 5,000 and 105,000 litres daily, and most of them usually operate at temperatures between 70 and 80°C. One third of the visited projects are equipped with vacuum tube collectors and two thirds with flat plate collectors.
No manpower for maintenance
According to APITCO´s observations, the plants were functioning well in line with plant owners' expectations. Still, the onsite inspectors observed that there was not enough manpower to maintain the plant or that there were no detailed logbooks on maintenance because the owners seemed to think that the plant would produce the desired results anyway.
Kapoor pointed out that "there is a need for quality technical solutions". He added that the installations "have not yet been broadly accepted by end users, as they are not convinced of the systems' performance."
"Monitoring is crucial: It is important to know how efficient the solar water heating system is to increase trust among interested customers," Stryi-Hipp confirmed in his presentation. The Fraunhofer ISE project coordinator listed some of the possible pitfalls of such installation projects:
Wrong orientation of the collector field
Shading on collector area
Improper flow of heat transfer fluid through parallel collector fields
High-temperature losses in pipes, storage and other parts of the system
Unexpected flow through and within the storage
Wrong controllers, etc.
Search for locally made monitoring equipment
Two case studies were chosen for installing a comprehensive monitoring system, which was delivered and installed by Fraunhofer ISE.
Synthokem Labs, Hyderabad
Himachal Pradesh State Cooperative Milk Producers' Federation, Shimla
In the future, the project partners intend to use locally made monitoring equipment, as it will reduce costs and enable Indian manufacturers to integrate monitoring units into their installations.
More information: