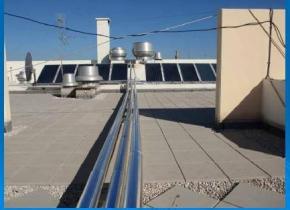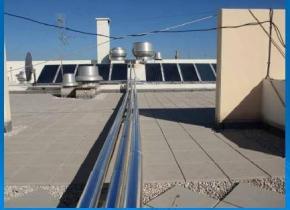 Saida Governmental Hospital
Lebanon: Check List for Solar Installations in Hospitals
The demonstration of best practise – a solar thermal system on the roof of the Saida Governmental Hospital – showed some technical deficiencies at second glance. The monitoring of the system led to a check list including preventive maintenance advice.
Photo: Solarnet
Solar water heating systems can substantially reduce the energy bills of healthcare facilities. Only, designers and installers faced and still face complex requirements, for example when they installed solar water heating systems on hospitals in Lebanon as part of the Country Energy Efficiency and Renewable Energy Demonstration Project for the Recovery of Lebanon (CEDRO).
The project is funded by the Lebanese government and grants from Spain and started in 2007. So far, the project had four solar thermal systems installed on public hospitals, all of them with a daily capacity of 4,000 litres of solar-heated water: Abdallah Rassi, Hermel, Jezzine and Saida. CEDRO monitored the systems and created a list of technical failures and best practises. It presented the results at a workshop in Beirut, Lebanon, in October 2009. There, 60 participants listened to the presentation of Jean Paul Sfeir, Manager of Solarnet, a Lebanese solar water heater company participating in the Lebanese Centre for Energy Conservation (LCEC) project.
Nader Hajj Shehadeh, Energy Engineer from LCEC, held another interesting presentation on significant technical problems. Its title: "Solar Water Heating Applications: 2,310 m² installed, Valuable Lessons Learned". His analysis was based on two different projects: the 500 residential solar water heaters donated by China in 2006 and the 104 solar water heaters funded by Sweden for the July War Recovery project, which was realised in 2007/2008.