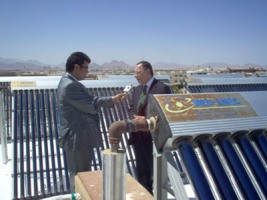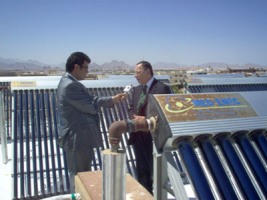 Egyptian Minister for Environmental Affairs, Maged George
Solar Cooling at the Red Sea: Demonstration Project with a Payback Time of 30 Years
The Egyptian Minister for Environmental Affairs, Maged George, is being interviewed on the roof of the Environmental Affairs Agency building, which is equipped with a 82 m2 vacuum tube collector system. Source: http://www.eeaa.gov.eg
Since June 2009, a solar cooling installation has been demonstrating the benefits of renewable energy cooling technologies at the Egyptian Environmental Affairs Agency (EEAA) building in Sharm El Sheikh, Egypt. The system was one of the ten pilot projects, which are being implemented under the supervision of the Energy Efficiency in the Construction Sector in the Mediterranean (MED-ENEC) project, which is funded by the European Union.
The so-called South Sinai Governorate Project comprises of design, installation, testing, operation and monitoring of a solar air-conditioning application on an administrative building, together with training facilities and accommodation for students. The project includes evacuated tube collectors with a gross surface of 82 m² and operation temperatures of 90°C and is equipped with three single effect absorption chillers by Spanish company Rotartica, which possess a nominal capacity of 4.5 kW each.
The application itself listed the following subsystems: one solar system, one thermal storage and one vapour absorption system. The invitation to tender covered the entire system, Rotartica chillers from Spain and evacuated tubes by Sunrise based in China were then chosen among the product offers by these and four other companies. Rotartica, however, has ceased to supply absorption chillers in the meantime.
The picture above shows the Egyptian Environment Affairs Agency (EEAA) building in Sharm El Sheikh, Egypt, which possesses sealed windows and additional shading devices.
Source: MED-ENEC
There were also additional measures implemented in the building at the Red Sea, in order to further improve its energy efficiency, such as 24 sealed windows to prevent air leakage, 20 additional shading devices, 60 energy-efficient light bulbs and occupancy sensors for indoor lighting. All of these energy measures combined have reduced the energy consumption of the building by 50% (see attached paper).
Nevertheless, the project turned out to be very cost intensive due to the products imported from various other countries. The cost of all the refurbishing methods listed above, including the solar cooling system, amounted to a total of EUR 95,532, which translates into 7,000 EUR/kW in relation to the 13.5 kW of installed cooling capacity. The payback period is estimated at 30 years.
The installation was part of the MED-ENEC project, which has performed ten pilot installations to show best practice examples, new technologies and different approaches towards making building sector projects more energy-efficient and ecologically suitable in Mediterranean countries. After holding a public competition, an evaluation committee decided in 2006, which 10 pilot projects are to be set up. Contracts were signed, with a budget of approximately EUR 100,000 per project. The ten installations are situated in Turkey, Lebanon, Palestine, Egypt, Israel, Jordan, Algeria, Morocco, Tunisia and Syria.
More Information:
http://www.med-enec.com/en/pp_introduction.aspx
http://www.med-enec.com/en/egypt.aspx
Text was written by communication specialist Hanna Schober based in South Africa. Schober@solrico.com