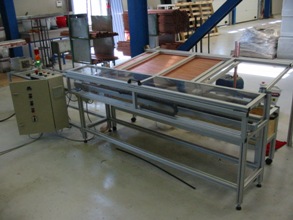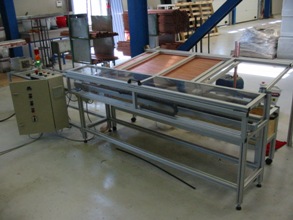 Israel: The History of Punching Machines
There are two suppliers of punching machines from Israel challenging each other to have been the first to market on the market: Ravid Solar Solutions and Dagan Machine Engineering. The history of both companies shows certain parallels, as both companies were founded by former employers of Israeli collector manufacturers. The photo shows a fully automated punching machine by Ravid Solar Solutions.
Photo: Ravid Solar Solutions
Moshe Dagan built his first punching machine as Chief Engineer for his employer, the Israeli collector manufacturer Amcor, in 1981. At that early stage, the newly developed machine was used only internally and not offered to other collector manufacturers. Many years later, in 1998, Bezalel Ravid developed his first punching machine as Technical Manager at Chromagen.
"Our first semi-automatic machine at Chromagen was so successful that we were asked by European competitors to offer them the machine," says Ravid. But it was only after he left Chromagen in late 2002 that he was able to fulfil those requests. Ravid Solar Solutions exhibited on the ISH in Frankfurt in 2003 and sold its first completely automated machine to Greek absorber manufacturer Dimas. "Over the next three years, we sold around 15 punching machines all around the world," Ravid, who was the frontrunner in establishing this new technology standard in the solar thermal industry, confirms. By now, this number has increased to around 30 units.
According to news item "Engineers for Absorber Manufacturing" (see link http://www.solarthermalworld.org/node/807), Dagan Machine Engineering did not sell its first commercial punching machine of the "new generation" before 2006.
"But to be very clear about the history of internal punching," adds Ravid, "it was neither invented by Mr Dagan nor by us. It was patented about 35 years ago". The significant change Ravid Solar Solutions made to its first commercially offered machines was that it developed an "internal punching process" that was cost effective, clean and resulted in a good collar quality. "We replaced T-Drilling, which was dominant until the early 1990ies and a slow process with expensive equipment, because it covers two production steps," explains Ravid. First, a smaller hole is drilled and then the collar is pulled to create a larger hole than the drilled one. In comparison, the Dutch "Flow-Drill" process – applied by some larger German and Austrian collector manufacturers – was cheaper, more reliable and easy to automate, but according to Ravid, it also had one serious disadvantage: It left large copper "burrs" inside the header tubes, which resulted in very bad hydraulic performance.
The internal punching, as described on Ravid´s website, works as follows: A small hole is punched first. The punch is then extracted further, bending out the circumference of the hole, to form a collar with the desired diameter. When punching is complete, the gripper, which is holding the tube, is placing it exactly at the next punching position. This process with its convincing performance became the standard of the industry.
More information
RAVID Solar Solutions: http://www.b-ravid.com
Dagan Machine Engineering: http://www.dagan-machine.com/