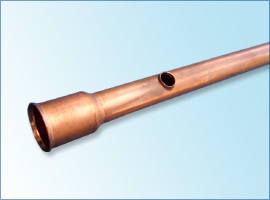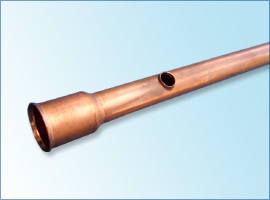 Israel: Engineers for Absorber Manufacturing
What counts is the quality of the collar: Dagan´s punching machines possess a special die, which works together with the internal punch to optimize the form of the collar.
Photo: Dagan Machine Engineering
Moshe Dagan from Israel could rightly be called "the father of punching systems for manifolds". He developed the first internally used punching machine from scratch back in 1981, when working as chief engineer for the Israeli collector manufacturer Amcor. 25 years later, Moshe Dagan – in the meantime owner of an engineering and automation company in Israel – redesigned the tube punching machine and shifted the focus of his company to the solar thermal industry. Punching machines are now his forte. Dagan developed and patented a special design for the counter head device, "which provides the highest quality punch and collar in the manifold," as is explained on the company's homepage. His customers in the solar industry include well-known collector manufacturers, such as Vaillant (Germany), Riello (Italy) Chromagen (Israel), Batec (Denmark), Termicol (Spain) and Eraslan (Turkey).
Fully automated punching machine which can process tube length up to 1.5 m.
Figure: Dagan Machine Engineering
"Now, we are also offering an entire set of machines for producing harp-type absorber grids," Dagan says. The series includes machines for all steps throughout the process, from manufacturing the coil to producing a brazed harp-type tube grid:
• Tube straightening machine
• Manifold tube punching machine
• Automatic grid brazing line
• Grid bending machine
• Leak testing system
Development of Moshe Dagan and his team: a leak testing system, based on the method invented by the US-American company ATC in Indiana.
Figure: Dagan Machine Engineering
The leak testing system is a novelty in the solar thermal industry. Moshe Dagan adopted the leak testing method from the US company ATC, based in Indiana. "Instead of pressure difference, we measure air flow," Dagan explains the major difference to air pressure testing systems, standard in collector factories today. The absorber grid is linked to an air container, which is at the same pressure of around 3 bar. If there is a leak in the absorber grid, air will flow from the container to the absorber grid to replace losses. A micro-flow sensor measures the outgoing flow.
"The system is fast, very sensitive and depends not so much on ambient temperatures," the engineer describes the advantages of the new system.
Whereas the grid bending machine and the punching machine already operate in absorber factories, the other machines are prototypes.

More information:
http://www.dagan-machine.com/