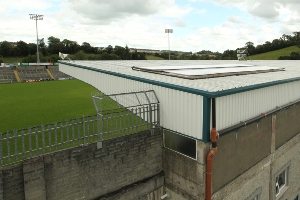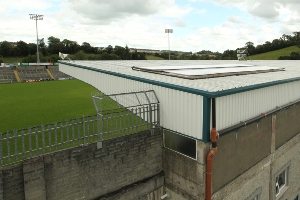 Ireland: Solar Thermal Market takes a Nosedive
The Kingspan Breffni Park Stadium in County Cavan, Ireland, has profited from its vacuum tube collector installation since August 2010. The solar combi system by Irish company Kingspan Renewables provides solar-heated water for the showers and the heating system of the player's sanitary facilities. 30 % of the EUR 35,000 solar investment came from a subsidy by the Sustainable Energy Authority of Ireland (SEAI), granted under its Renewable Heat Deployment Programme (ReHeat).
Photo: Kingspan Renewables
ReHeat belongs to the past. Because of a lack of budget resources, ReHeat did not accept applications in 2011. In Shane Caher's view, budget cuts are one of the major barriers in the solar thermal market in Ireland this year. The Operations Director of Kingspan Renewables expects the newly installed collector area in Ireland to decrease in 2011 by 28 %, to around 18,000 m2. According to the market statistics of SEAI quoted by the European Solar Thermal Industry Federation (ESTIF), around 25,000 m2 of collector area were mounted in Ireland in 2010.
In addition, the solar thermal market is highly affected by the development of construction activities around the country (see following chart): The steep climb until 2008 had been accompanied by an overheated building sector when 90,000 new family homes were built each year. Today, the housing market for new buildings is down to around 10,000 units per year. With this collapse, demand on the solar thermal market has also been plunging and figures are back to the level of 2007.
The graphic shows the figures of the annual ESTIF market statistic of installed collector area in Ireland. The figure for 2011 is an estimate by Kingspan Renewables, the market leader in the solar thermal sector in Ireland.
The application rate for the former Greener Homes subsidy scheme shows the same trend up and down: The programme rebated solar heating systems in existing buildings between 2006 and 2010 with 300 EUR/m2 for vacuum tubes and 250 EUR/m2 for flat plate collectors (see the following table). Since the beginning of 2011, SEIA has provided cash grants of EUR 800 for domestic solar systems in existing houses through what is now called the "Better Energy Homes Scheme".
| | |
| --- | --- |
|   | Number of installed renewable heating systems |
| 2006 | 1,338 |
| 2007 | 8,382 |
| 2008 | 9,643 |
| 2009 | 7,311 |
| 2010 | 4,895 |
Number of installed renewable heating systems in a particular year, subsidised under the Greener Home Scheme.
Source: SEAI
And how about the future of the Irish solar thermal market? Shane Caher thinks the market will stabilise in 2012 on this year's level and at the same time, he emphasises the positive effect of case study projects, such as the Breffni Park Stadium. "Over the last twelve months, we have realised several reference projects in the commercial sector in Ireland and they were even covered on television. It seems like a good starting position and we are receiving more requests from sport clubs or hotels now". The ReHeat Programme is unlikely to be reactivated in 2012, because the government has already decided to let solar thermal systems be part of the Accelerated Capital Allowances (ACA), which enables companies to offset 100 % of the capital cost of solar thermal systems against corporation tax in the year the system is bought.
More information:
http://www.kingspan-renewables.com
http://www.seai.ie