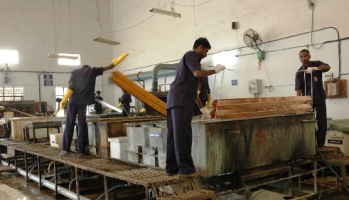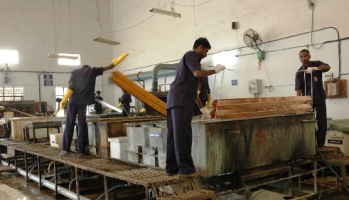 India: Solar Thermal Manufacturing Industry to Grow Further
The dynamic market growth in India has produced an entire row of successful manufacturers of absorber coatings over the last few years, including Bhagyanagar India Ltd and Maharaja Techno Chromes. Both companies use the Nalsun Black Chrome Coating technology and also sell complete absorber fins to collector producers. The photo shows the fin coating process at Maharaja Techno Chromes.
Photo: Maharaja Techno Chromes
Maharaja Techno Chromes, located in Bangalore in the south of India, has been in business since 2001 and is claiming to have produced 256,500 fins in 2010 that could cover a total of 57,000 m2. Managing Director Dinesh Jain says that the volatility in copper prices led the company to aluminium fins, whose performance has been far more than satisfactory since they were introduced last year. Because aluminium is cheaper than copper, Maharaja is going to increase its share in these fins in the current year. Jain, however, did not disclose the names of the companies which benefit from this change, stating his obligations from earlier disclosure agreements. But he was pleased to announce that despite an increase in vacuum tube collector sales, he sees this technology as no threat to flat plate collectors, which will continue to dominate the Indian solar thermal market. Maharaja has also started exporting absorber fins to Europe this year.
Bhagyanagar India Ltd, on the other hand, is part of the Surana Group and was founded in 1985. The company with a diverse portfolio of copper products, phone cables and construction services was one of the late entrants to the solar thermal market: It began to coat absorber fins in Secunderabad, Andhra Pradesh, in 2003. Despite its late start, Bhagyanagar has shown remarkable growth over the years and claims to have coated in 2010 a fin area of almost 100,000 m2.
A very different technological path has been taken by Electrotherm India, which has its core competence in metal melting processes. The tank manufacturer based in Ahmedabad has recently launched a vacuum tube collector based on heat pipes and with an OEM double-glass tube produced in China. The collector is called AGNI and is the first of its kind in India – so far, all vacuum tube collectors have included water-filled glass tubes imported from the same neighbouring country. Electrotherm aims in particular at the industrial sector with hot water requirements of up to 90 OC. According to Managing Director Siddharth Bhandari, the untapped potential in this sector is huge. In addition, AGNI can also be used at sub-zero temperatures and will benefit users in colder climate zones, especially in the Himalayan region.
More information:
http://www.etrenewables.com
http://www.maharajasolar.com
http://www.bhagyanagarindia.com