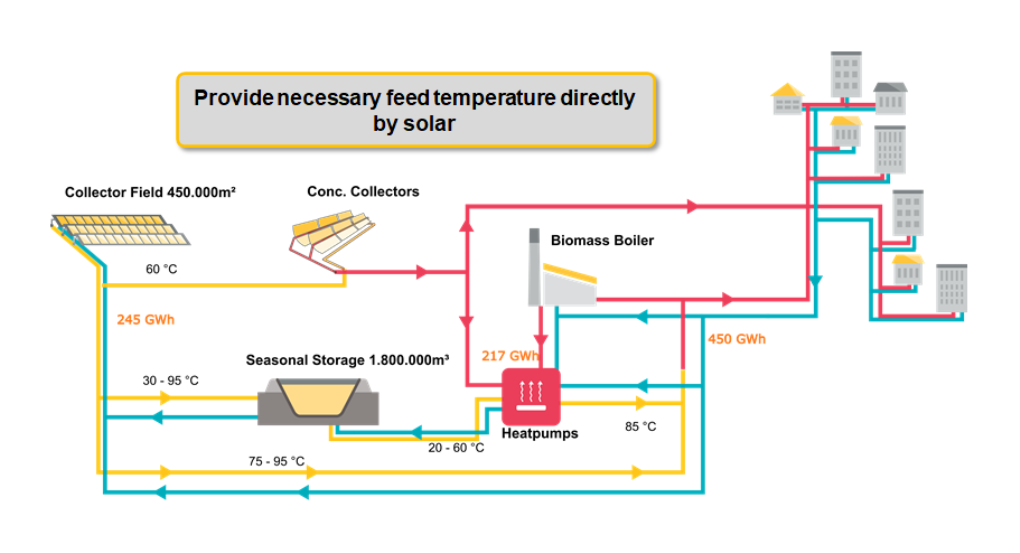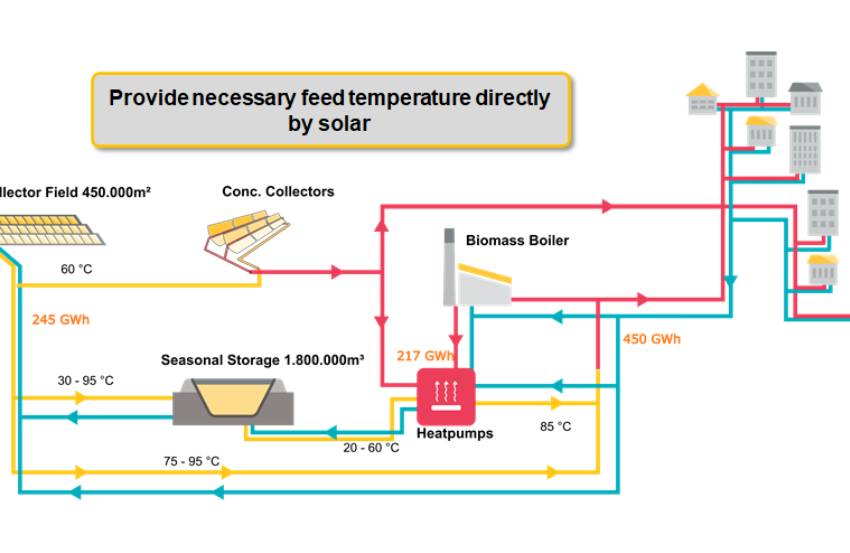 Improving the efficiency of SDH
Since the end of IEA SHC Task 55 – Large Solar District Heating and Cooling Systems last December, there have been multiple calls for continuing the work of this successful research platform in some fashion. In response, Viktor Unterberger, a senior researcher at the Austrian BEST – Bioenergy and Sustainable Technology centre of excellence, invited stakeholders to a one-day online meeting on 10 March to discuss the content, structure and workplan of a new research platform titled Efficient Solar District Heating Systems – considering medium-high temperatures and digitalization measures. The meeting was attended by 44 experts, half of them researchers, the other half industrial representatives, who made clear they consider the topics of the new task to be highly relevant and would like to start on the new research platform rather sooner than later.
Scheme: BEST
Asked about the outcome of the discussions, Unterberger said: "Our main objective for the task is to bring solar heat closer to the needs of district heating operators, especially by providing medium- to high-temperature energy – either directly by using solar systems or indirectly by combining them with other technologies." The reason for this is that most of the world's district heating networks run on temperatures between 70 °C and 120 °C, while systems operating above 120 °C are found especially in Eastern Europe and former Soviet Union countries.
The March meeting helped flesh out the aims of the new task:
Provide efficiently generated solar heat to meet the needs of current district heating systems running at medium to high temperatures
Use collected data to improve solar heating plant design and operation
Cut costs and increase the profitability of solar district heating systems
Unterberger emphasised that efficiency is the key driver behind clean district heating measures: "If we want to achieve the highest possible efficiencies, we should consider combining different technologies, allowing them to play to their strengths."
Viktor Unterberger, of BEST – Bioenergy and Sustainable Technology, Austria, specialises in hydraulic and solar thermal system control and modelling.
Photo: BEST
The working title of the new platform is "Efficient solar district heating systems – considering medium-high temperatures and digitalisation measures". Asked about what relevance digitalisation will have for the task, Unterberger said: "I believe digitalisation will play a key role in meeting our goals. Smart controls are essential to having different devices work in concert and achieve high efficiencies." An example of this, he added, is a smart algorithm using weather forecasts to help improve solar integration across heat networks. Another is a tool to help project developers easily and quickly create standardised SDH plant designs.
Organisations mentioned in this article: