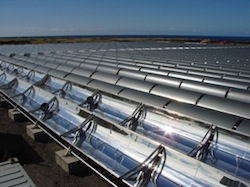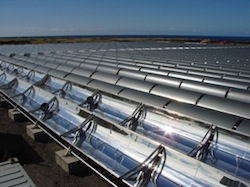 Hawaii: Electricity through Sunshine and MicroCSP Technology
A solar field for electricity production: The 1,000 parabolic trough collectors by Hawaiian manufacturer Sopogy, which stand in the hot Kona desert on the Big Island of Hawaii, equal the output of a 2 MW thermal power.
Photo: Sopogy/Keahole Solar Power
In the middle of December, the Natural Energy Laboratory of Hawaii Authority, USA, inaugurated a huge solar thermal power plant by Hawaiian manufacturer Sopogy, consisting of 1,000 MicroCSP solar panels. With a reflection surface of 5 m2 and a length of 3.7 m, these parabolic trough collectors weigh 68 kg and follow the sun from east to west during the course of the day. Their reflectors are delivered by the German aluminium coating specialist Alanod Aluminium-Veredlung GmbH & Co. KG. They focus the sunlight on the receiver, which is filled with a liquid that heats up while running through a row of MicroCSP units. The demonstration project with a thermal power rating of 2 MW spans across almost 4 acres in the hot Kona desert on the Big Island.
"Through the use of mirrors and optics and an integrated sun tracker, these panels achieve an efficiency of 20 to 40 %, which is much higher than the average efficiency of crystalline photovoltaic modules with about 15 %," the website of Sopology explains. The company was founded 7 years ago and focuses on bringing new renewable energy technology to the market.
To date, Sopogy has 8 solar thermal energy facilities with MicroCSP technology in operation around the world. They cover a wide range of applications, from solar cooling and process heat to desalination. The latest installation in Hawaii is also the first one to produce electricity. The US $20 million investment includes a lab and some portions of the parabolic trough field that will be used for advanced field R&D. The system also uses a thermal energy storage buffer to store some hot liquid for allowing energy production during cloudy periods and in the evening. Private equity investors supported the project. "We have a power purchase agreement in place, which allows for a reasonable rate of return," Darren T. Kimura, President and CEO of Sopogy Solar Power Technology, explains.
The background to this story: The state of Hawaii is currently importing 90 % of its energy. The overwhelming dependency on energy imports prompted Governor Linda Lingle to sign a Clean Energy Initiative at the beginning of January 2008. The initiative aims at producing at least 70 % of the islands' electricity through clean energy by 2030. The concentrated solar thermal technology is a major step towards reaching this ambitious target. Sopogy and its local solar project development partner Keahole Solar Power have the aim of adding 30 MW of MicroCSP power to the electricity grid of the state by 2015.
More information:
http://www.sopogy.com
http://www.alanod-solar.com
http://www.keaholesolarpower.com