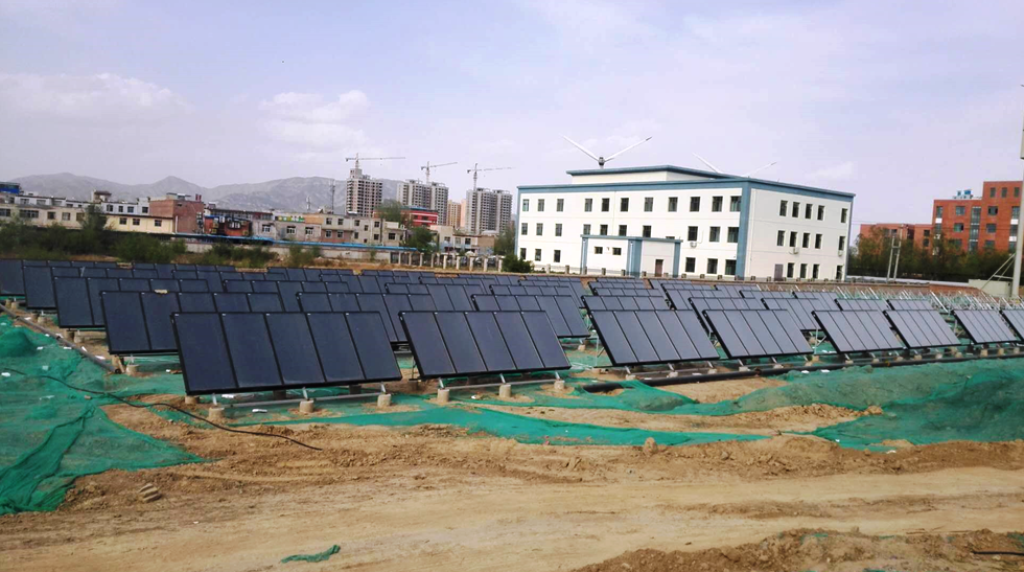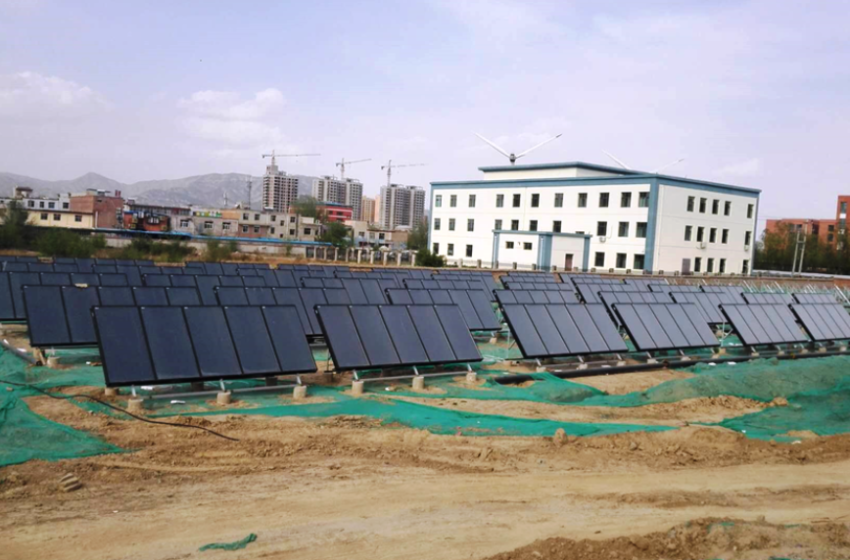 Green heat policies in China benefit heat pumps
Several provinces in northern China have implemented green heat policies to avoid air pollution from coal boilers. Beijing was the first province to create a policy in 2016 and others, such as Hebei and Shan Xi, then followed suit. Heat sources and technologies recognised as renewable in China are natural gas, electricity, geothermal, biomass and solar thermal. Market observers say coal boilers are mainly being replaced by air source heat pumps at present. Nevertheless, suppliers of solar thermal systems have now adapted their product offerings to try to position themselves as premier sources of policy-compliant alternatives. The photo shows a 1,000 m² solar field partly comprised of large (10 m²) flat plate collectors manufactured by Fivestar. It was put up at the Lanzhou University of Technology, in the northern part of central China.
Photo: Fivestar
An online report about Shan Xi's green heat policy was published on Chinese social media platform WeChat last July. It lists the ambitious targets announced by the cities and regions in this province. For example, the city of Xiangyang issued the Blue Sky Defence Action Plan 2019 this July, proposing an increase in funding for the purchase of renewable heat systems, with the aim of reaching a green energy share of over 90 % in the city, more than 70 % in urban to rural areas and more than 40 % in the countryside.
Small impact on solar space heating
"Solar is included in the green heat policy but does not benefit much from it," said Ruicheng Zheng. Zheng, who is a researcher at the China Academy of Building Research, named several reasons for why the policy has done little to boost the solar thermal market:
Solar thermal always needs an auxiliary heating device, for example, a heat pump or a boiler. Hence, the investment in this sort of hybrid system is always higher than if only a heat pump is used.
More collector area is required for space heating than for hot water only, making it more difficult to avoid overheating in summer.
Users have had little experience in operating solar space heating systems, which results in short equipment lifetimes, so that costs cannot be recovered.

Unless these problems are solved, regions that have green heat policies in place will continue to see the heat pump market growing at a faster rate than the market for solar water heaters, Zheng noted. Installing central heating systems in rural areas could solve some of the issues. Still, there are further challenges ahead, as all heat networks have been built in cities, not in villages.
Light troughs or large flat plate collectors meet space heating needs
Chinese suppliers of solar thermal technology have been well aware of the ambitious green policies. However, they expect solar district heating to face some headwinds. "There is not enough space for solar heating systems in the big cities in the north," Vicot Solar Technology, a producer of parabolic trough collectors, said in response to a query from solarthermalworld.org. Vicot offers systems with reduced weight to customers that have enough roof space available.
Alex Lai, who works in the Export Sales Department of Fivestar, said that his company has designed a large collector panel intended specifically for use in solar space heating projects. The panel measures 10 m² and is thicker because of additional insulation. Fivestar said that it completed two projects last year. One of them was the 1,000 m² field that can be seen in the photo; the other was a 3,200 m² installation at a military camp in Tibet.
Institutions mentioned in the article: