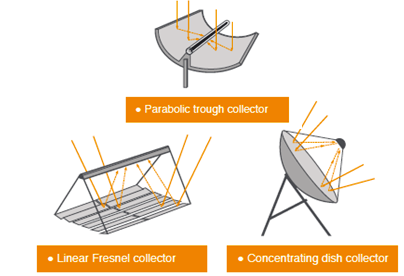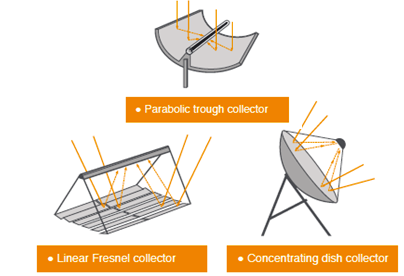 A survey of the global market for concentrating collectors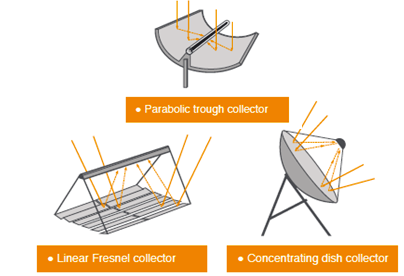 Concentrating collector technologies are becoming an increasingly popular choice for customers requiring industrial heat or space heating. This year's Renewables 2018 Global Status Report includes, for the first time, data regarding new installations of concentrating systems. Published at the beginning of June by the Paris-based REN21 network, it states that a minimum of 143 MWth was set up in 2017. The largest markets were Oman (100 MWth), China (15 MWth), Italy (14 MWth), India (2.8 MWth) and Mexico (2.8 MWth). The image shows the three technologies available for sale.
Graphic: Solar Payback
Most systems described in the report were set up for industrial purposes, such as food and beverage processing, textile production and automotive manufacturing. In China, however, nearly all of them have been used to provide hot water and space heating in commercial buildings. In India and Mexico, some were built for large commercial facilities, such as laundries, hotels and hospitals.
The data was taken from a Solar Payback survey among suppliers of concentrating collectors for large-scale applications. A handful of them commissioned most of the 143 MWth of capacity mentioned above.
The figures given by survey respondents denoted aperture area of all three concentrating collector technologies, namely linear Fresnel, parabolic trough and dish, and have been converted into solar thermal capacity based on a globally accepted formula: 1 million m² = 0.7 GWth.
Survey results in detail
In Oman, US-based
Glasspoint
set up four 25 MW
th
parabolic trough collector arrays for enhanced oil recovery inside greenhouses. The installation, one-tenth of what government-owned Petroleum Development Oman is planning to have on site, began producing solar steam at the beginning of this year. In February, John O'Donnell, Vice President of Business Development at Glasspoint, confirmed plans to construct eight additional 200 MW
th
systems until the end of 2018.
Chinese-based parabolic trough collector manufacturer
Vicot Solar Technology
reported the completion of projects totalling 21,537 m² of aperture area. According to Ouyang Cheng, Marketing Manager at Vicot, most of them were for space heating and hot water. The largest field, built for the operator of a district heating plant in Tibet, measured 9,000 m².
2017 also saw the completion of
two demonstration projects
in Italy, a Fresnel system in the Ottana municipality on Sardinia and a parabolic trough collector field in Melilli on Sicily, each with a 10,000 m² array to produce 7 MW
th
. At both, the temperature of thermal oil is increased to between 250 °C and 300 °C to transfer heat directly from the solar panels to ORC units manufactured by Italian-based Turboden, which improves electrical efficiency by up to 25 %.
In Mexico, parabolic trough collector manufacturer
Inventive Power
commissioned 17 installations, which have since provided heat for manufacturing businesses, hotels and sports centres, while engineering firm Citrus built its first industrial solar heat system for a fruit processing facility.
India has developed a strong supply chain for solar concentrating solutions, as it has been the first and only country in the world to offer
incentives
for the technologies under a programme launched in 2010. Six suppliers reported new reference projects totalling 5.4 MW
th
of solar thermal capacity, although this figure is a steep drop from the 18 MW
th
added in 2016. The reason for so few new systems was the government's case-by-case assessment of every one of those eligible for the 30 % national investment subsidy. Earlier this year, the government announced that it had
extended
the subsidy scheme until 2020.
Download the Renewables 2018 Global Status Report:
Organisations mentioned in this article: