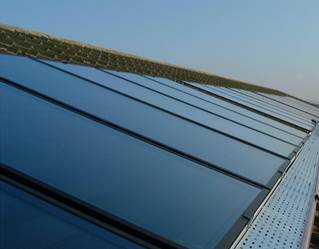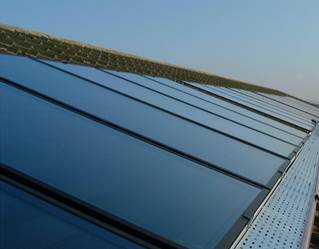 Great Britain: Big Run on Phase 2 of the Low Carbon Building Programme
Phase 2 of the Low Carbon Buildings Programme in Great Britain focuses on larger solar thermal systems. Since July 2009, this has meant an approval of 250 applications for them. It, however, has not been clear yet how many of these systems will actually be realized.
Source: BRE
On 1 July 2009, the Low Carbon Buildings Programme's (LCBP) Phase 2 was extended until the 1st of April 2011, in order to continue with the provision of grant funds to charitable organisations, community groups and the public sector. An extra budget of Pound Sterling (GBP) 21 million was made available for microgeneration technologies, including solar thermal, biomass boilers and heat pumps. The Low Carbon Buildings Programme Phase 2 (LCBP2) has been in effect since December 2006, reaching a total budget of GBP 50 million.
Technology type

Applications approved since 1st of July 2009

Total budget

GBP

Grants claimed

Total of grants paid

GBP

Solar Thermal Hot Water

250

3,099,065

4

22,018

Ground Source Heat Pumps

273

6,185,793

6

123,551

Automated Wood Pellet Stoves

1

2,859

1

2,856

Wood Fuelled Boiler Systems

4

76,306

1

8,673

Total

528

9,364,023

12

157,098
Statistics of the Low Carbon Building Phase 2 Program since its extension in July 2009.
Source: http://www.lowcarbonbuildingsphase2.org.uk/reportsummary.jsp
The table above shows the grant applications approved, as well as grants claimed since July 2009. It is obvious that there is a high interest in the grand scheme since more than 528 applications have been addressed to the programme organisers at BRE (former Building Research Establishment) in only 7 months. "We currently have a waiting list for solar thermal, as it is a very popular technology. We have recently received many applications and they have to be dealt with on a first-come first-served basis," explains LCBP2E (Low Carbon Buildings Programme Phase 2 Extended) Programme Administrator Julia Thomas.
What is a bit surprising, however, is the fact that only 4 grants have been paid so far. One reason for it: Applicants have one year to realise the installation after receiving the approval for a grant. The second reason: People were aware of the fact the programme should have come to an end last summer and now want to reserve their piece of the cake within the new limited budget. Statistics later this year will show how many applicants will have ultimately invested and actually realised the ecological heating system they had asked a grant for.
To promote the programme even further, BRE is holding events in cooperation with the Department of Energy and Climate Change (DECC), at which organisations can get useful advice about the application process for receiving a grant, including microgeneration technologies and installations, as well as other advice about energy output and the potential of reducing carbon emissions and energy bills. They also provide opportunities to learn about the upcoming Feed Tariffs, which will be introduced in April 2010.
Further Information:
http://www.lowcarbonbuildingsphase2.org.uk/index.jsp
Text was written by communication specialist Hanna Schober based in South Africa.
Schober@solrico.com
The Low Carbon Buildings Programme's Phase 2 was extended in July 2009 for another one and a half years, up to 1 April 2011. The programme includes a grant scheme for charitable organisations, community groups and the public sector, which like to install microgeneration technologies.
Highly appreciated by British organisations, it has a waiting list for solar thermal applications because of the high popularity of the technology. Only 4 application grants for solar thermal installation have been paid out until now because BRE has received only 4 claims so far.
Country / region  

Great Britain

Name of programme

 

Low Carbon Buildings Programme

(LCBP) Phase 2

Type of incentive

 

Rebate

Eligible technologies

 

Solar thermal systems and all other renewable technologies

Applicable sectors

 

The in July 2009 extended programme will continue to provide grant funding to charitable organisations, community groups and the public sector. 

Amount / maximum incentive

 

200,000 Pound Sterling (GBP) or 50 % of the relevant eligible costs (whichever is the lower)

 

Requirements for system

 

Solar Thermal Hot Water up to 300 kW

Requirements for installation

 

Approved installers s

upply only certified products (www.microgenerationcertification.org) and/or (

http://www.estif.org/solarkeymark/productsandcertificates.php

) 

Finance provider

 
Building Research Establishment (BRE)
Trust Companies

Total funds

 

21

million GBP for a wide range of energy saving measures and renewable energy technologies (Phase 2)

Funding source

 

Public funds

Effective date

 

Originally started in December 2006, extension since July 2009

Expiration date

 

Heating only

applications can be made throughout 2010 but applicants will have to

claim their grant by the end of February 2011

.

Expiration date of the LCBP 2: 1st April 2011

Website

 
http://www.lowcarbonbuildingsphase2.org.uk

Last review of this tabloid

 

February 2010

Contact

Building Research Establishment (BRE)
Trust Companies
Phone 0044/(0)8704 23 23 13
Email info@lcbpphase2.org.uk