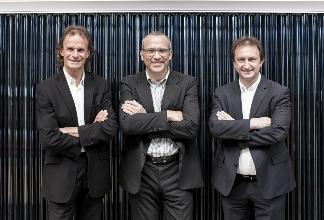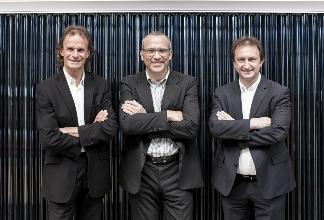 Germany: Ritter Group's Eco-Consequent Product Development
The German Ritter Group is proving its commitment to eco-business more and more: The latest generation of the Paradigma double-glass evacuated tube collectors, called Aqua Plasma, shows improved performance, as well as a reduction in weight and carbon emissions. This development matches the company's philosophy, which has characterised Ritter since its origins and has lately received the name "Ecoquent" (Ecological Consequence). The photo shows the Management of the Ritter Group (from left): Klaus Taafel (Technology and R&D), Jürgen Korff (CEO, Marketing and Sales) and René Reinhold (Finance, Controlling and Legal Affairs).
Photo: Ritter Group
"To us, Ecological Consequence also means to become carbon-neutral along the entire supply chain of our solar thermal business, from vacuum tube production in China to delivering the solar thermal systems to the end costumer," explains Jürgen Korff. As part of the so-called Carbon Balance project of Ritter, the end customers will be involved, too. The emissions saved by their solar thermal systems will count as compensation. Ritter will first start with Paradigma customers in Germany. The Ritter Carbon Balance Method has been developed together with PE International, a company known for its expertise in sustainable performance. The method will also be validated by an official certification institution.
The development of the Aqua Plasma collector matches the company's philosophy and its carbon balance aims. "We were able to decrease the carbon emissions for producing the collector by 14 %. We reduced the framing material and use plasma coating for the aluminium sheet mirrors," explains Korff. The collector improvements include:
16% less weight by using less aluminium in the framing
Glass tube transmission has been increased from 91 to 94 % by applying a silicon-oxide gradient coating through a dry plasma process. This saves a fair bit of energy compared to the usual sol-gel process. Ritter is the first company to use this technology in the solar thermal market. It was developed in cooperation with German scientists at the Dr Laure Plasma Technology GmbH.
Improved coating of the Compound Parabolic Concentrators (CPC) by increasing the hemispherical reflectance (AM1.5) from 84 to 90 %. The aluminium mirrors are now coated in-house. Silicon oxide is used to protect the special plasma coating against corrosion.
All of the technological improvements combined produce a significant higher solar yield. Compared to the existing Azzurro collectors of Paradigma, the Aqua Plasma collector achieves 12 % more solar output at operating temperatures of 50 °C (23 % at 100 °C). Compared to standard flat plate collectors, the gain is even an average 50 %. These results can be corroborated by the second page of the Solar Keymark certificate. Thanks to the additional data sheet, it is now possible for customers to have an independent energy yield comparison of all collectors certified by Solar Keymark since the beginning of 2012.
Today, the Ritter Group comprises of 15 sales and production companies in 9 countries around the globe. It employs about 1,600 people worldwide, of whom 355 work in Europe. The Group sold around 100,000 m² of collector area in Europe in 2011. Through its joint-venture Linuo Paradigma, the group distributed around 1.5 million m² in China last year. The turnover of the Ritter Group amounts to approximately EUR 150 Million.
More information:
http://www.estif.org/solarkeymarktnew
http://www.ritter-gruppe.com