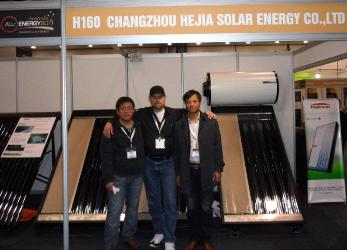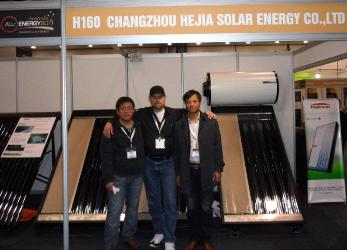 Australia: Vacuum Tube Collector with Overheating Protection
Chinese company Hejia Solar Energy presented a new collector type at the All-Energy Australia 2011 trade fair in Melbourne in October 2011. The collector's automated coverage prevents the system from overheating during daily operation. The participation in the fair was organised jointly by the Chinese manufacturer of the new collector type, Heijia Solar, represented by Chief Engineer Pan Kexue, as well as CEO and owner of Hejia Solar, Wu Guosheng, and the Australian Sales Office OZ Hejia Solar, represented by Director Frank Witowski (middle).
Photo: Oz Hejia Solar
"Our new vacuum tube collector HFC-2 comes with a special design which makes the collector panel around USD 100 more expensive," explains Witkowski, who runs the Australian company Oz Hejia Solar founded in 2011. "The eight heat pipe tubes with a CPC aluminium reflector made in Germany are enclosed in a box with a back sheet and a 3.2 mm low-iron tempered glass cover on the top." This design produces very high stagnation temperatures of up to 300 °C. Hence, a curtain is placed under the glass cover, which moves as soon as the storage tank reaches the set temperature. "The curtain opens again automatically if the storage tank drops below the set temperature, which is 5 °C below maximum storage temperature," explains Witkowski.
The curtain is made of fibre glass with a Teflon treatment on the surface and is supplied by its own 12 Volt solar supply system, which allows the system to operate even when the power is cut. According to OZ Heija Solar's Managing Director, the collector design has two very important advantages on the Australian market: First, the collector is resistant to 40 mm hail stones – as has been tested by Swiss research institute SPF. Second, the curtain prevents the collector from overheating. According to Witkowski, the system does not need an expansion tank, no security valve or other temperature controlling measures. This also means that no water is lost by opening valves – a very important criterion in Australia, a country in which water-saving is taken very seriously.
Efficiency curves of collector HFC-2 measured by Swiss research institute SPF Rapperswil
According to the Managing Director, the product aims at the residential sector in Australia. "In the Australian summer, the curtain will close when the storage tank is full, but the system also quickly recovers should hot water be used again," explains Witkowski. The efficiency curve of the collector measured by SPF has a relatively low starting point of ƞ0=0.497 (gross area) compared to a flat plate collector, but develops into an extremely flat curve because of the collector's well-designed thermal insulation (see the chart above).
More information:
http://www.hjsolar.com