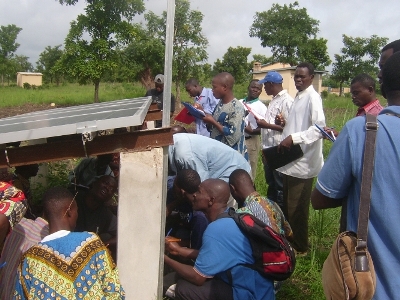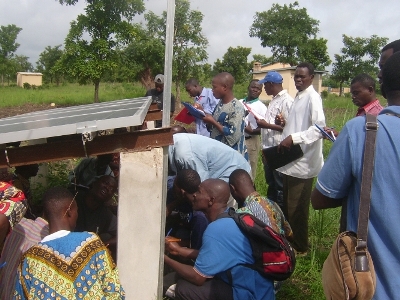 Germany: New Conference on Solar Energy Technology in Development Cooperation
On 6 and 7 November, solar experts working for development cooperation agencies all around the world will meet in Frankfurt, Germany, for the Solar Energy Technology in Development Cooperation conference. The two-day event by experienced German conference organiser OTTI will be held for the very first time. The German Agency for International Cooperation, GIZ, and the Austrian Development Agency (ADA) will support the conference by paying travel and participation costs for several of the international speakers. The photo shows electricians in training visiting a solar water pump installation in Togo, West Africa.
Photo: Bärbel Epp/Urbis Foundation
The first day will focus on Financing for Solar Energy in Developing Countries and on Photovoltaics in Development Cooperation – Moving from Off-Grid Rural Applications to Large Scale Deployment. The second day will provide an overview of the various solar thermal technologies for southern countries, such as solar drying, solar hot water preparation and water treatment. The final session is titled Capacity Building. The organisers expect around 140 participants from all over the globe. Among the speakers are a fair number of experts from southern and eastern Africa, such as from Kenya, Mozambique, South Africa and Zimbabwe – a testimony to the networking skills of Conference Chair Werner Weiss, Head of Austrian AEE Intec, the company which initiated the Southern African Solar Thermal Training and Demonstration Initiative (
Soltrain
).
Financing and capacity building – two non-technical issues of development cooperation
OTTI has already had several years of experience organising international conferences on solar energy in southern countries: This April, the Clean Energy Hybrid Mini-Grids in Remote Areas took place in Bad Hersfeld, Germany, for the seventh time. The two-day event, which focuses on new technological solutions, energy management and proper business models, is held in different European countries every other year. Another biennial is the international conference Small PV Applications Rural Electrification and Commercial Use, which had its fifth anniversary in June 2013. OTTI always holds this two-day event in the same week that the Intersolar Europe opens its doors in Ulm, a city not that far from Munich in the south of Germany.
Both events are photovoltaics only and rather focus on technology. Not the new Solar Energy Technology in Development Cooperation: It is the first conference to bridge the gap between PV and other solar technologies and to make them share the limelight with other development cooperation topic, such as financing and capacity building.
More information: