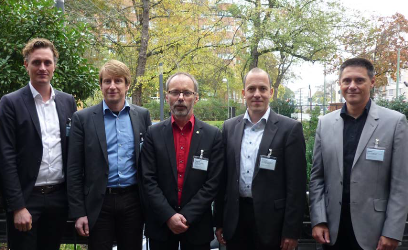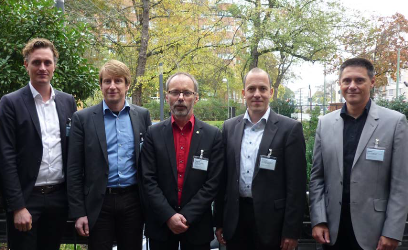 Germany: First Solar Energy Technology in Development Cooperation Conference
On 6 and 7 November, experts in development cooperation and solar specialists from all around the world met in Frankfurt, Germany, for the Solar Energy Technology in Development Cooperation conference. The two-day event by German conference organiser OTTI was held for the very first time and brought together about 100 participants from 25 different countries, who discussed the opportunities and the challenges of solar energy use in southern nations. The conference had a special focus on technologies and projects for solar heating, drying and solar thermal water treatment in new emerging markets – thanks to a scientific committee with a rich background in the technology (from left): Joscha Rosenbusch (BSW Solar, Germany), Joachim Koschikowski (ISE Freiburg, Germany), Werner Weiss (AEE INTEC, Austria), Bernd Hafner (Viessmann, Germany) and Stephan Gnos (NET Nowak Energie & Technologie, Switzerland).
Photo: OTTI
"We had an interesting mix of participants," Joscha Rosenbusch, International Development Consultant at the BSW Solar, was quoted as saying in a press release from 14 November. "Especially encouraging was the high number of specialists from Africa, one of the key future markets for solar technology." An example of a promising case study on the successful implementation of solar thermal technology in southern Africa was the solar water heating plan for Namibia. The capacity of solar water heating increased almost tenfold between 2005 and 2008. "The more than 100,000 electric geysers in households are responsible for the peak in Namibia's electricity demand," explained Helvi Ileka, researcher from the Renewable Energy and Energy Efficiency Institute of the Polytechnic of Namibia. As a result, utility NamPower plans to replace 20,000 geysers with solar water heaters as a demand-side measure.
Energy Globe Award 2014 for first solar cooling system in the Caribbean
One key topic of the discussions was financing: Many renewable energy projects in emerging markets are too small for professional investors, but too capital-intensive for development cooperation, several speakers concluded. Another barrier to achieving a short solar payback period are subsidised electricity or fossil fuel prices. But in countries with non-subsidised electricity and diesel, solar cooling has already had a chance to outperform cooling by the use of compression chillers, as the case study from Austrian turnkey system supplier S.O.L.I.D. showed. "The high midday demand for cooling energy in the Caribbean is causing high peaks and sometimes even power failures," Christian Holter, General Manager of S.O.L.I.D., emphasised during his presentation. In 2012, Holter's company implemented the first solar cooling project across the region. Since then, 982 m² of flat plate collectors on the rooftop of mobile operator Digicel's Jamaican headquarters supply heat to a 600 kW sorption chiller. The system with a 9-year payback period is still maintained and being optimised by S.O.L.I.D. The company received the Energy Globe Award 2014 for its showcase installation, which will save the customer more than USD 13 million over 30 years.
Main challenge is to create financing instruments
"Not technology, but management and financing are the biggest challenges for projects in developing countries," is how Bernd Hafner, Head of Technology Development at Viessmann, summed up the conference days. "Together with stakeholders in development countries, we have to create financing instruments and training lessons to overcome the existing shortage of qualified professionals," Werner Weiss, chairman of the conference and Managing Director of Austrian research institute AEE INTEC, was quoted as pointing out one of the discussions' key outcomes in the aforementioned press release. The conference Solar Energy Technology in Development Cooperation will take place in 2016 again. OTTI has already had several years of experience in organising biennial international conferences on solar energy in southern countries, for example, the Clean Energy Hybrid Mini-Grids in Remote Areas and the Small PV Applications Rural Electrification and Commercial Use.
More information