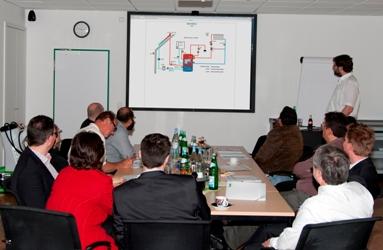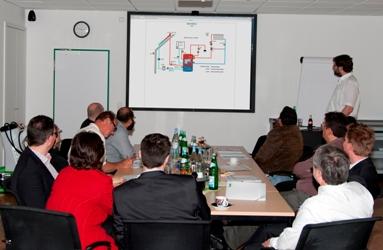 Germany: Create Live Schemas and Performance Diagrams on VBus.net
At the end of January, German controller manufacturer Resol invited an international group of solar thermal experts to visit its company and to discuss its latest innovation VBus.net, a web-based monitoring solution for solar thermal and heating systems for end customers. Daniel Wippermann, Head of Software Development at Resol, explained everything there is to know about the new tool. VBus.net allows users to display current temperature and flow data in a hydraulic schema and to create charts for the long-term performance of selected system sensors. Among the solar thermal professionals visiting the company were members of associations and employees of manufacturers from Australia, Brazil, China, Egypt and Mexico.
Photo: Resol
Resol launched VBus.net in the middle of January as a free-of-charge service for all owners of controllers connected online through the most recent Datalogger version (DL3), which was introduced 15 months ago. According to the company, there are around 1,300 of these dataloggers out in the field. So far, 50 end users have registered on VBus.net during the last three weeks. After opening an account with a user name and password, users can register any number of DL3s and access the web interface of the datalogger through a server application. "The process requires no knowledge of networks," confirms Wippermann. The menu offers a number of hydraulic flow schemas; drag and drop is used to position selected data fields on the schema. VBus.net users can also create diagrams to show period-based data of selected sensors – whether these are temperature sensors or pump signals – with periods ranging between one day and three months.
Both the live schemas and the diagrams can be put up at a public link and embedded into a website or even a social network profile. This will make the data visible to people even without a login. When the company's international visitors asked for remote control functionality, Wippermann said that this might be part of an update later on. For the time being, the online tool only shows sensor data provided by the datalogger. "The user will not be able to change parameters when logging onto the datalogger. Still, we are looking into the matter of remote control for a later software generation," says Wippermann. There will soon be a firmware update on SD memory for users of the previous Datalogger DL2, so that around 5,000 additional users may have access to VBus.net in the near future.
Resol is a family-owned controller manufacturer with 35 years of experience in the solar thermal sector. According to the company´s own information, Resol has shipped more than 3 million devices to 60 countries around the globe. The company manufactures all of its products in Hattingen, Germany, where the company employs 150 people.
More information:
http://www.resol.de