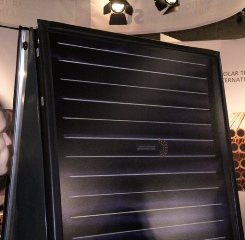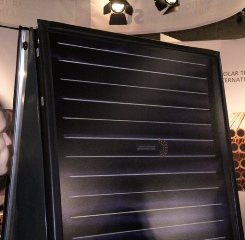 Germany: Cost Optimisation in the Collector Industry
German collector manufacturers have come under high pressure: Copper prices are still on the rise, but the German market is not picking up. Replacing the copper material in the absorber and using a plastic tray instead of an aluminium frame are two of the cost-saving measures the producers have implemented to get sales margins under control. Two German collector manufacturers – STI Solar- Technologie- International and Bosch Thermotechnik – presented collectors with ultrasonic-welded aluminium absorbers and polymer trays on the fairs during the first half of 2011. The photo shows the STI collector, which has an ultrasonic-welded aluminium plate and an aluminium pipe absorber, at the ISH in March.
Photo: Bärbel Epp
For many years, the industry thought of laser welding as the one and only bonding technology for absorbers consisting of aluminium plates and copper pipes. Ultrasonic welding machinery suppliers such as Schunk Sonosystems were rather careful in promoting copper and aluminium joined by ultrasonic welding.
Meanwhile, the situation has reversed: One of the largest German collector manufacturers, Bosch Thermotechnik, presented its new flat plate collector module Logasol SKN 4.0 at the Buderus booth at the ISH in Frankfurt, Germany in March. It will be available on the market by September 2011. The aluminium plate and copper pipe absorber have been welded ultrasonically and the polymer tray has been glued to the clear glass cover.  "Aluminium is softer than copper, which means we have to press down the absorber plate during the welding process," Ralf Köbbemann-Rengers, Director Solar Thermal Systems Engineering at Bosch Thermotechnik, explains. Hence, the absorber plate shows a regular pattern of round marks (see photo below).
New collector generation by Bosch Thermotechnik: Logasol SKN 4.0 will be available on the market by September 2011.
Photo: Bärbel Epp
Bosch Thermotechnik, which can look back on more than twenty years of experience with ultrasonic welding technology, has created its own clamping system for lead pipe welding in order to place the weld as close to the manifold as possible and loose a minimum of absorber sheet when transferring heat to the fluid. The company has also replaced the composite frame made up of steel back sheet with a 4 mm thick polymer tray. The tray is produced by a sheet moulded compound (SMC) process and purchased externally. "The equipment costs for the form and the press which also heats the material are too expensive," Köbbemann-Rengers states as the reason behind choosing a supplier for the new tray.
During the SMC process, a fibre-reinforced Duroplast is formed and heated in a press. The press equipment to produce typical collector sizes of 1 to 2.5 m can easily reach a 7-digit sum, which means the process only pays off if production numbers are sufficiently high. German polymer processing company Alois Kober GmbH is one of the polymer tray suppliers to the solar thermal industry. Munich's Intersolar Europe this June was the first fair at which the company has ever had a booth. "Our largest SMC machine at the moment is 3 m long and 1.5 m wide," Andreas Fetzer, Team Leader Project Management at Alois Kober, confirms. "For us, solar thermal is a relatively new domain presenting big challenges, but also big opportunities," says Fetzer.
One of its customers is German OEM collector manufacturer STI. STI developed a small collector sold primarily on Southern European markets. Fino is only 1.2 m long, 1 m wide and weighs 13.6 kg. STI CEO René Fiedler estimates a price reduction potential of 3 to 6 % by replacing an aluminium frame with a polymer tray, but only if production output is high. "With the low demand in Germany and its neighbouring countries, the tray is not reducing our costs right now," says Fiedler.
"We chose the small-size panel to start with, because the wall thickness of the polymer tray is smaller than with a 2 to 3 m2 collector." Fino shows its strength primarily on the roofs of industry halls or other building tops with a certain statics problem, or on residential buildings on which space is limited, such as in Great Britain and Ireland. STI showed its first ultrasonic-welded absorber plate at the ISH in Frankfurt in March. "We change the sonotrodes when we weld aluminium instead of copper plates because the surface on the sonotrode head is different for aluminium," explains Tony Werler, Technical Director of STI. According to Werler, the speed of the welding is the same for aluminium and copper. Only the pressure has to be reduced in case of the softer aluminium material.

More information:
http://www.sti-solar.de
http://www.al-ko.com
http://www.bosch-thermotechnik.de/