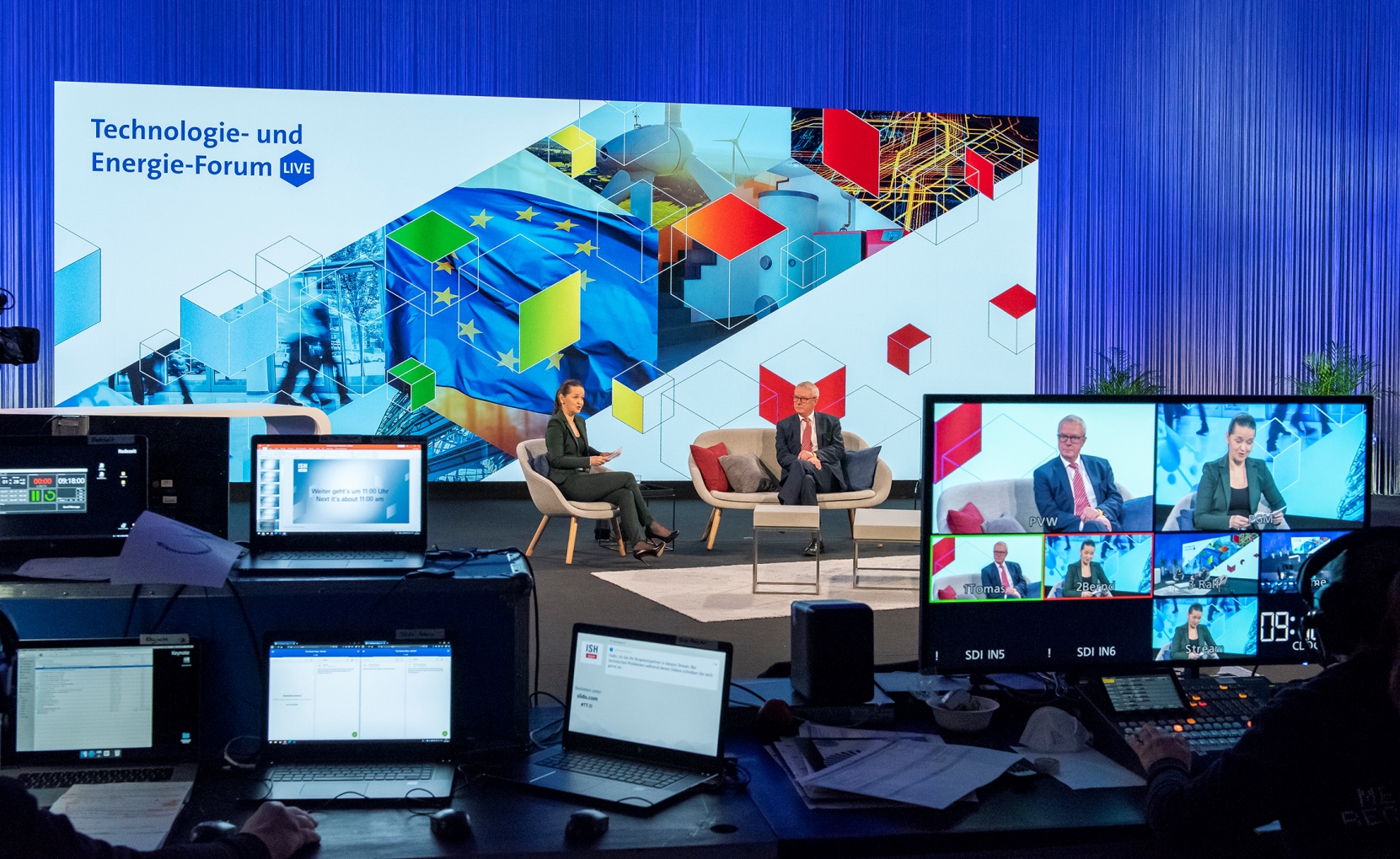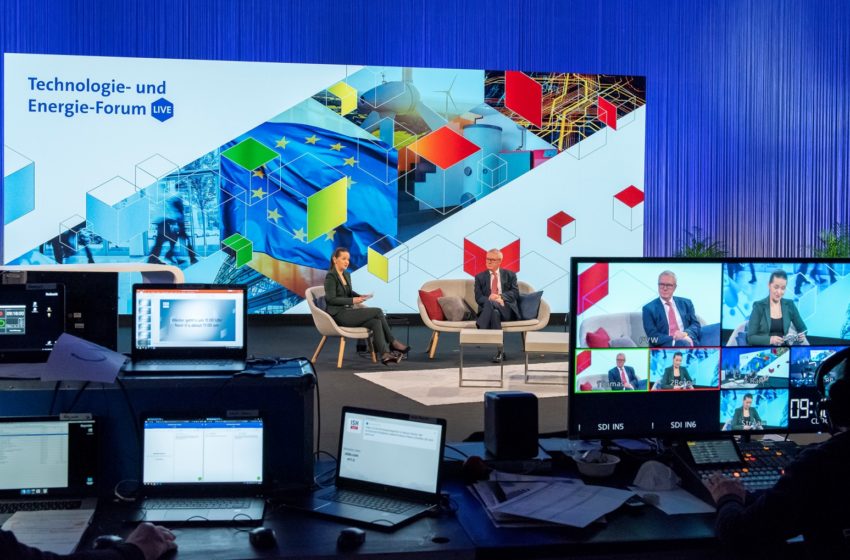 Hydrogen-ready – the new buzzword in the heating industry
At the ISH digital, held from 22 to 26 March, Germany's major heating companies offered attendees plenty of new event formats, including moderated board panels, professional film inserts, and live broadcasts of their exhibits. But as those businesses presented their new products, it became obvious that the focus of this year's online event was on promoting rather traditional technologies such as gas condensing boilers. The photo shows moderator Carina Bastuck as she welcomes Andreas Lücke, CEO of heating industry association BDH, during the Technology and Energy Forum.
Photo: Messe Frankfurt/Petra Welzel
Five days but only two on-screen mentions: Such was the fate of solar thermal at the ISH, as the big names in the heating industry saw their priorities lying elsewhere. The first time the technology was referenced was when a journalist asked a company representative for their opinion on solar heat. The representative replied that, as part of a hybrid system, solar thermal collectors would achieve, at most, a 30 % emissions reduction. The second time the topic came up was during a presentation of a new gas condensing boiler, which can be outfitted with an integrated bivalent solar storage tank, a solution called "renewable-ready".
Indeed, ready seems to be the heating industry's new buzzword. Gas condensing boilers are "H2-ready", oil heating is "future fuel-ready" and the sector, as a whole, says it is "Green Deal-ready". What the BDH means by this is that heating businesses have already been offering systems which use natural gas blended with up to 20 % hydrogen or heating oil which contains 33 % of bioliquids – though first, you will need to find someone to supply these new fuels.
ISH digital key facts and figures 
Illustrations: Messe Frankfurt Exhibition
Gas condensing boilers, but little else
The ISH digital saw major heating suppliers from Europe showcase mainly new gas condensing boilers. Some also presented new heat pumps, including high-temperature units used for building retrofits, highly efficient units equipped with inverter technology, and systems providing high output for large projects. But, for example, a new biomass boiler was not among these innovations.
That is hardly a coincidence, as gas-fired systems remain as popular as ever. Their installation figures went up by 6 % in Germany last year. And they still make up the bulk of sales in the sector, with three out of four heating appliances sold in 2020 running on fossil fuels.
Overall, the German heating industry was able to increase sales of heat generation units by 13 % last year, despite Covid-19. Industry leader Bosch Thermotechnology said at its virtual iSH digital press conference that it sold products worth EUR 3.5 billion in 2020, as much as in the prior year. And Viessmann, one of the three largest heating system suppliers in Germany, even managed to grow sales by 6 %, to EUR 2.8 billion. Vaillant's figures will be announced later this year.
| | | |
| --- | --- | --- |
| Type of appliance | Growth/decline from 2019 to 2020 | Sales in 2020 |
| Gas boilers (condensing and low-temperature) | + 6 % | 623,500 units |
| Biomass boilers | + 138 % | 54,000 units |
| Heat pumps (air and brine) | + 40 % | 120,000 units |
| Oil boilers | – 14 % | 44,500 units |
| Total | + 13 % | 842,000 units |
| Solar thermal systems | + 26 % | 643,500 m2 |
Number of units sold in 2020 in Germany
Source: BDH
Hydrogen for heating – a vision for the future
The companies participating in ISH digital also used the opportunity to announce their plans for the coming years. Acknowledging the growing importance of electrification in the heating and air-conditioning industries, Bosch Thermotechnology said it will invest EUR 100 million to grow its heat pump business and offer multi-technology solutions that run on hydrogen. "Hydrogen is easier to store than electricity and can be distributed via the existing gas grid," explained Jan Brockmann, who chairs Bosch's board of management.
Viessmann, too, is convinced that there is no way around hydrogen when it comes to transforming the heating sector. The company's new gas condensing boilers are certified for use with up to 20 % hydrogen in the mix, which is in line with systems offered by other manufacturers. Viessmann also said its devices will keep running efficiently and issue-free even if 30 % blends are being used. The next generation of fuel cell heating systems and the latest CHP units will use up to 20 % as well. And when operating large boilers, the focus will again be on hydrogen.
One organisation criticising the industry's pro-hydrogen strategy as early as last year was the German Heat Pump Association. It pointed to a recent Fraunhofer IEE study that listed multiple issues with using gaseous fuels in the building sector, especially their lack of efficiency and a host of infrastructure requirements. And what should not be overlooked because of all the discussions about modified heating fuel is that renewable energy sources are not only "ready" but are already contributing to the decarbonisation of boiler rooms.
Organisations mentioned in this article: