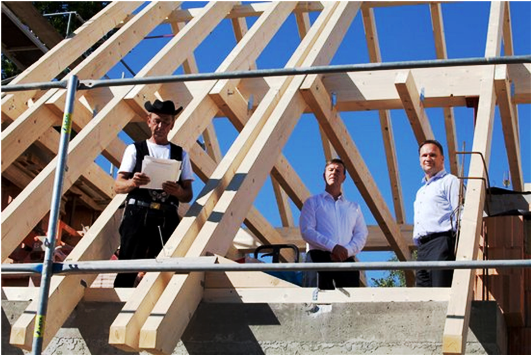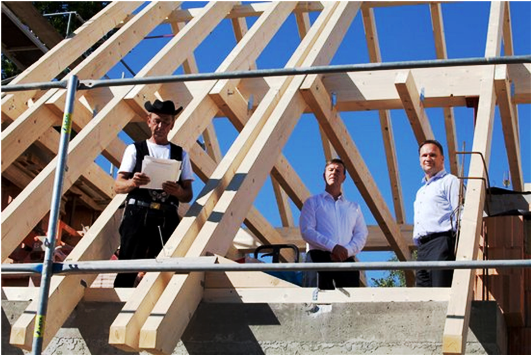 Germany: Bank Builds Solar House for Alternative Pension Scheme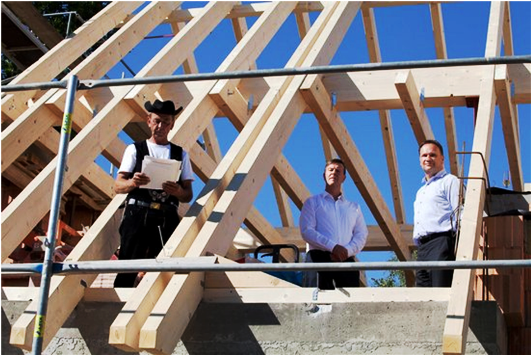 Topping out a new primarily solar-supplied residential building in Germany is not really news anymore, especially because there have already been more than 1,800 solar houses set up all across the country, according to November 2015 statistics by the association Sonnenhaus-Institut (Solar House Institute). What's special about this topping out ceremony on a solar house in Schmölln in the region of Thuringia at the end of August 2016 is the fact that the investor is a bank. The building is planned to cover 55 % of its heat and 100 % of its electricity demand by solar. With it, local cooperative bank VR Bank Altenburger Land wants to demonstrate to its members and clients what smart living will look like in the future.
Photo: Verlagsgruppe Kamprad / VR-Bank Altenburger Land eG
"Solar houses offer new business models for banks, the property industry and utilities," emphasised Timo Leukefeld, solar energy specialist and consultant on the VR Bank project. "The solar house is an alternative pension scheme and increases the bank's credit volume." The additional investment of EUR 90,000 (plus EUR 10,000 subsidies) for the energy self-sufficiency of the building includes the running costs over the next 25 years. A homeowner could typically save between EUR 3,000 and 4,000 per year, according to Leukefeld. "Tax-free energy saving creates two to three times more purchasing power than taxable income, which is generated by feed-in tariffs or a financial investment," he explained the advantages that homeowners would enjoy.
The other VR Bank partners besides Leukefeld are construction company Helma Eigenheimbau and energy provider envia Mitteldeutsche Energie.
Design of the solar house in Schmölln. The roof is completely covered with solar collectors and photovoltaic panels, and a charging station for an electric car is in planning.
Design chart: Timo Leukefeld – Energy Connects
"Grid power is too precious in winter to be used for heating needs," Leukefeld said. "So our energy supply concept does not rely on electricity for heating at all, but has solar thermal technology and biomass cover heating and hot water demand during the year." The Schmölln solar house is equipped with a 46 m² collector field on the roof, a 9 m³ seasonal storage tank in the centre of the building, floor radiator heating and a 25-kW biomass boiler with a heat exchanger. Based on Leukefeld's experiences with similar
solar houses
in the German town of Freiberg, seasonal storage can cover 65 to 70 % of the heat demand each year, although the solar share is only 55 % in Schmölln because of the additional basement in the building.
Regarding electricity, grid-independent supply is realised by the use of a 9 kWp PV generator, combined with a 58 kWh lead-gel battery bank. There are also plans to add a charging station for an electric car.

The self-sufficiency makes a connection to the power grid unnecessary. But the investors did not want to run the risk of something going wrong later and did include grid connection. From the beginning of 2017 on, VR Bank will use the project as a showcase for members, clients and partners.
Website of companies mentioned in this article (all in German):