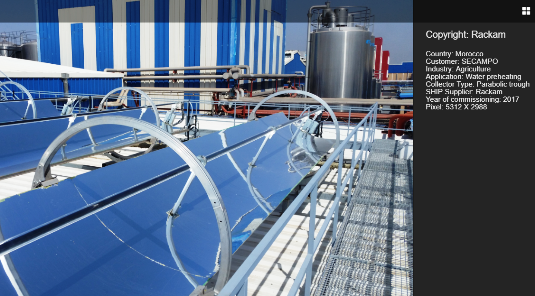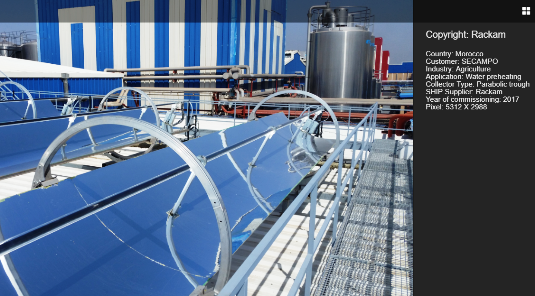 Freely downloadable SHIP installation photos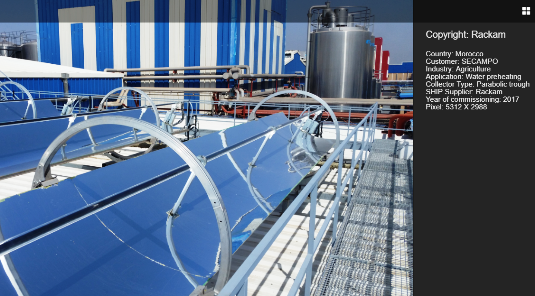 Planning to hold a presentation on the solar process heat potential in your country? Thinking about posting news articles to your website? Just go to solar-payback.com, where you can find a photo gallery offering royalty-free images of SHIP systems around the world. The gallery comes with image captions in three languages and already includes 55 photos of existing systems providing solar heat for industrial processes, or SHIP, for use in your publication.
You can download and use all images free of charge – as long as you include a copyright notice, which is preceded by © and states the owner of the photo.
An advanced search function allows to filter by collector technology, country or industry, among other things. Results will be shown immediately as soon as you start filling in one of the search fields.
Each image includes a set of key technical data about the installation. This information can easily be copied and pasted. After choosing a system, you will find the following displayed in a fact box next to the image:
Country
Customer
Industry
Application
Collector type
SHIP supplier
Year of commissioning
The photo gallery is one of the outcomes of a 2018 survey carried out by Solar Payback among nearly 80 SHIP suppliers from around the world. The
SHIP Supplier World Map
contains a list of all those which participated in it.
All SHIP technology suppliers are invited to provide images of installations that they have completed and for which they have full copyright. Please contact Bärbel Epp at
epp@solrico.com
for receiving the form that needs to be filled in.
Solar Payback is a three years project (October 2016 to September 2019) that aims at promoting the use of SHIP across four partner countries – South Africa, India, Mexico and Brazil. As part of the German International Climate Initiative (IKI), it is raising awareness of the technical and economic potential of SHIP technologies by clear and transparent information on the costs and benefits of SHIP applications and by helping to build selected reference systems.
Organisations mentioned in this article: