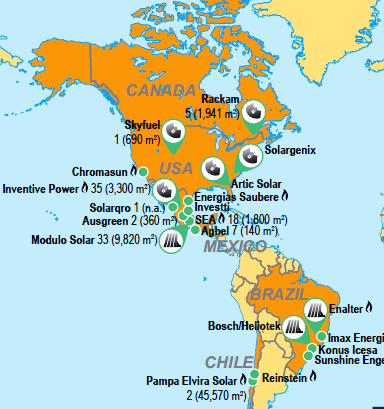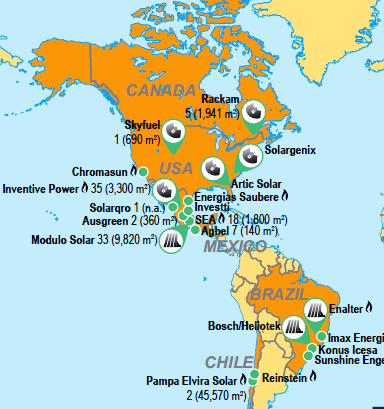 World Map of Solar Process Heat Specialists 2017
Industrial solar heat is far from being a standard yet, but it is more widespread than you might think. The first World Map of Solar Process Heat Specialists shows 71 companies in 22 countries which reported almost 400 reference systems. Together with additional plants included in the online portal ship-plants.info, the world market for industrial process heat comprises at a minimum 525 plants with an collector or mirror area of at least 416,414 m².  
World map design: Eilers Media / editor: solrico
The survey was jointly supported by the magazine Sun & Wind Energy and the project Solar Payback, which aims to raise awareness and improve the economic and policy conditions for solar heat for industrial processes (SHIP) in Brazil, Mexico, India and South Africa. The 3-year project is coordinated by the German Solar Industry Association, BSW-Solar, and funded by the International Climate Initiative (IKI) of the German Federal Environment Ministry.
The prerequisite for inclusion in the survey was that companies had to offer turnkey SHIP systems to their customers. The questionnaire defined turnkey as a system planned, supplied and installed by the seller or, the installation of which is monitored by the system supplier. Due to the narrow definition of turnkey, 29 of the 71 participants in the survey had to be content to be listed as "market-ready" suppliers without reference figures on the world map. Some of these firms are newcomers, such as Krypton Energy from Pakistan, New Heat from France, Inersur from Spain and Artic Solar from the USA.
The majority of the participating companies manufacture their own collectors. Parabolic trough systems, offered by 18 manufacturers, are the most common type of collector, followed by flat plate collectors (ten manufacturers), vacuum tube and Fresnel collectors (each five manufacturers), and dish collectors (four companies).
Service orientation pays: Two thirds of the suppliers guarantee a specific solar yield to their customers. A third of the companies either already offer or will offer heat supply contracts.
Graphic: solrico
Of the participants, 66% (47 companies) guarantee a specific solar yield to their customers. That is one aspect in which SHIP providers differ significantly from the suppliers of small systems for private use; after all, commercial industrial customers require performance guarantees (see chart on the left).
Approximately the same number of companies also offer to operate and maintain the systems. A third of the participants (24 companies) operate as well as Energy Service Companies (ESCOs) offering their customers heat supply contracts. It is fitting that 79% of respondents agree or strongly agree with the statement that heat supply contracts are an important business model for increasing the use of SHIP. No other statement about the market was met with such a high level of agreement.
Websites of organisations mentioned in this article:
IKI:  https://www.international-climate-initiative.com/en/