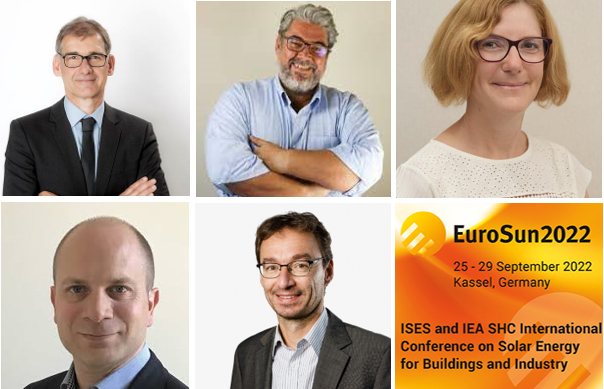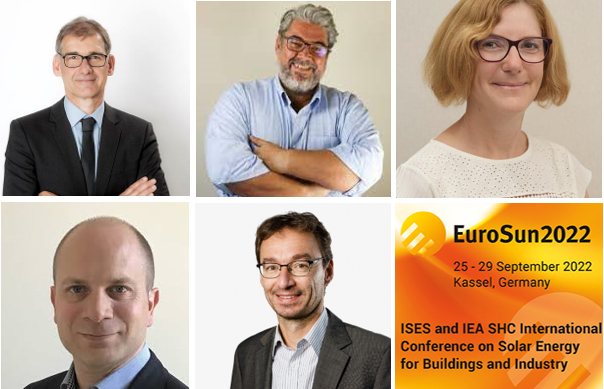 Eurosun 2022: Engaging keynotes by a unique mix of policy and research experts
From 25 to 29 September, Kassel, Germany, will be the venue for the Eurosun 2022 conference. The event will offer a packed programme of keynote speeches, lectures and workshops on a variety of green energy transition issues related to buildings and industry. On 29 September, attendees can then take part in two technical tours. Also following the conference, several in-depth workshops hosted by the IEA Solar Heating and Cooling (IEA SHC) Programme will provide a closer look at solar thermal applications such as solar cooling, solar building and solar process heat.
It is the first time the biennial Eurosun event has been organised by both the International Solar Energy Society (ISES) and IEA SHC. The organisations complement each other well, as ISES has a worldwide network of solar thermal proponents and associations, while IEA SHC offers access to the global SHC research community, who collaborates with a number of technology suppliers on multiple research platforms.
An interesting mix of policy and research experts turned out to be invited as keynote speakers to the conference (see the photos above).
Among them are Pedro Dias of Solar Heat Europe, Dr Ute Collier of the International Renewable Energy Agency (IRENA) and Thomas Pauschinger of AGFW (the German Energy Efficiency Association for Heating, Cooling and CHP) – three specialists on the green energy transition and the role solar heat could play in this process. The other two speakers, Professor Andreas Häberle and Professor Dr Uli Jakob, are from the group of IEA SHC experts who will participate in the event.

Solar heat for Industry and buildings Photo: Industrial Solar, Consolar, E3 Energy
In-depth workshops on IEA SHC topics
As the head of the IEA SHC Task 64 on Solar Process Heat, Häberle will present the latest results from his research group. The focus of the task is on evaluating the benefits and drawbacks of several simulation tools used for feasibility studies. The group's efforts are expected to lead to the publication of guidelines on yield assessment and the usage of simulation tools.
Jakob, who heads Task 65 on Solar Cooling for the Sunbelt Regions, will provide an overview of SHC market and technology development and report the first results of analysing data from 15 solar heat-driven solar cooling showcase projects. All those looking forward to discussing the topic in more detail can participate in the Task 65 expert workshop that will be held between 9 am and 4 pm CEST on Thursday, 29 September, a day after the end of Eurosun. For more information, please send an email to uli.jakob@drjakobenergyresearch.de
Also on Thursday – from 2 pm to and 5 pm – IEA SHC Task 66 on Solar Energy Buildings will hold an industry workshop where technology suppliers will present innovative heating solutions for buildings and neighbourhoods based on heat pumps and PVT or PV fields. The Task 66 team plans to document and analyse current and future energy supply concepts that can be used for solar energy buildings. The programme of the workshop will soon be uploaded here.
Supporting solar energy students
ISES has been very committed to ensuring that students can attend the conference and has advertised scholarships for this purpose. 60 students from around the world were accepted for free registration for Eurosun. In addition, up to 17 students have been accepted for a master's course on solar energy. Paired in groups of two people studying at different universities, they will need to create a report on a selected conference topic by reviewing the papers presented at Eurosun 2022 and individually locating related literature. But if that sounds like all work and no play: The two local solar heat solution providers Enersolve and Qoncept Energy will sponsor the Young ISES Party in the evening on Monday, 26 September.
Eurosun has been held at different locations every even-numbered year since 1996. Eurosun 2022 has been the first in-person meeting since 2018, when Eurosun took place in Switzerland. At the time, 350 researchers, businesspeople and public sector employees attended the conference, which led to a very fruitful exchange of knowledge and ideas. Eurosun 2020 was a virtual event held in September of 2020. Approximately 25 % of all participants usually arrive from outside Europe.
Organisations mentioned in this article:
Eurosun 2022: https://www.eurosun2022.org/
ISES: https://www.ises.org/
IEA SHC: https://www.iea-shc.org/
Task 64 on Solar Process Heat: https://task64.iea-shc.org/
Task 65 on Solar Cooling for the Sunbelt Regions: https://task65.iea-shc.org/