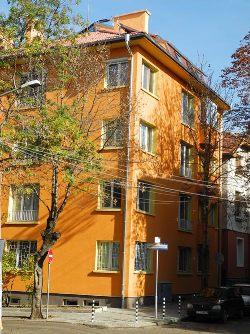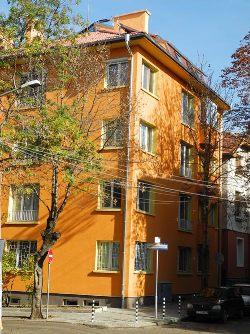 Europe: 3,000 m² Collector Area at Three STACCATO Projects
What do the European capitals Amsterdam, Budapest and Sofia have in common? Not much, except that they have all been participating in the STACCATO project since November 2007. The project is a sub-programme of the European Commission's CONCERTO initiative to promote energy efficiency and renewable energies. The STACCATO retrofit projects in Sofia-Oborishte (see photo), Amsterdam-Noord and Budapest-Óbuda are to achieve four specified goals: reduce energy consumption by more than half, integrate renewable – mainly solar thermal – energy on a large scale, make district heating compatible with modern energy systems and, last but not least, build up capacity for follow-up projects. Until now, the three STACCATO demonstration sites have seen the installation of about 3,000 m² of solar collector area.
Photo: Frank Stier
STACCATO stands for "Sustainable Technologies and Combined Community Approaches Take Off". The programme's aim is to demonstrate exactly how to make the transition from conventional to sustainable energy in housing projects. In the STACCATO retrofit projects, the flat owners have to pay 25% of the renovation costs; the remaining 75% are co-financed by the European Union, the United Nations Environment Programme (UNEP) and national budgets.
Launched on 7 November 2007, STACCATO was planned to last sixty months until November 2012. Because of the delay in the Amsterdam and Sofia projects, the European Commission has granted an extension to that period. "STACCATO has already been officially extended until 7 November 2013. Right now, we are working towards extending it a second time, until 7 November 2014," says Wilfred van der Plas, STACCATO Co-ordinator from Dutch engineering company Eneco. He attributes the delay in Amsterdam to tricky retrofit regulations. "It is required that 70% of the tenants are in favour of the renovation plan. This took up much more time than expected," van der Plas explains. In contrast, the delay in Sofia was caused by a "lack of experience in urban renovations and in how to acquire national funding".
In Amsterdam-Noord, the retrofit of eleven buildings with 1,176 flats had already begun in May 2008, but was stopped and has only been continued recently. When the project finally comes to an end, the old gas boilers will have been replaced by high efficiency ones. A central solar thermal system with 1,200 m² of collector area will have also been installed by then.
Hungary's biggest residential complex in Budapest-Óbuda, with 886 flats and 3,000 residents, has already been renovated in 2009. In addition to replacing the windows and insulating the walls, the hot water system was separated from the conventional district heating system and connected to a new solar thermal system with a collector area of 1,515 m².
"The Sofia-Oborishte project is the smallest but a very challenging child in the STACCATO family," says Genady Kondarev, Consultant at the responsible Bulgarian engineering company Djadadji. The project had originally been planned as an ESCO scheme, he says. But after a partner left the project, its concept was changed to renovating multi-family buildings, much like the ones in a governmental programme called "Energy Renovation of Bulgarian Homes" (ERBH). "Later, the government put its renovation programme on halt for over two years. This also caused a delay for the STACCATO project in Sofia-Oborishte," Kondarev regrets. In October 2011, three multi-family buildings with a total of 48 flats and a nursery were finished. Every flat has 2.6 m² of solar collector area installed, which will save its tenants 60% of the water heating costs.
As Kondarev explains, these flats are the first retrofitted multi-apartment residential buildings in Bulgaria which have solar water heating systems whose auxiliary heat is supplied by the district heating company. "This system is not so uncommon in some parts of Europe, but it is a very important showcase project in Bulgaria: It demonstrates the potential of such systems to provide clean energy," Kondarev says. In his view, Sofia is facing almost the same difficulties as Amsterdam. The law on Homeowner Associations has been designed in a way that it requires homeowners to gather 67% of a building's proprietors to register an association. "Major renovations, however, still need 100% of the owners on board."
Earlier this year, the Bulgarian Ministry of Regional Development and Public Works re-launched its national renovation programme ERBH. The ERBH programme is aiming to retrofit up to 200 buildings with more than 6,000 flats. Until now, it has been too early to tell how successful the government will be with its national renovation scheme. What can be said for certain, however, is that the new programme will benefit from the experiences made with the STACCATO project in Sofia-Oborishte.
STACCATO: http://www.concerto-staccato.eu
CONCERTO: http://www.concerto.eu/concerto/
Eneco Warmte & Koude: http://www.eneco.nl
Djadadji: http://www.djadadji.com
Bulgarian Ministry of Regional Development and Public Works: http://www.mrrb.government.bg