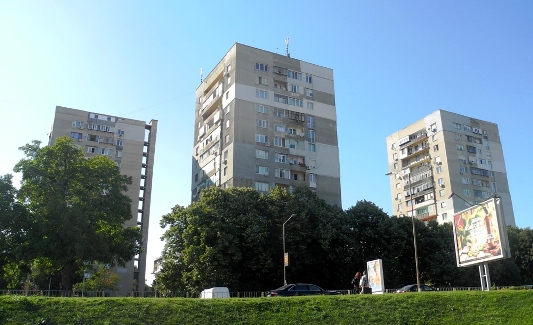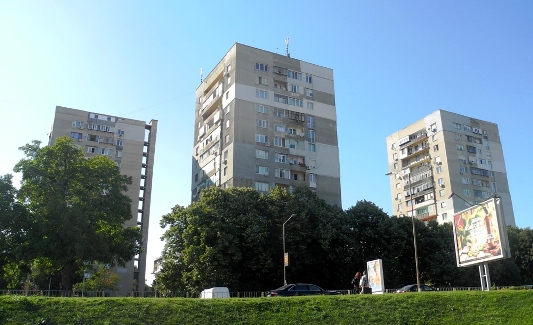 Bulgaria: Third Phase of Residential Energy Efficiency Credit Line Launched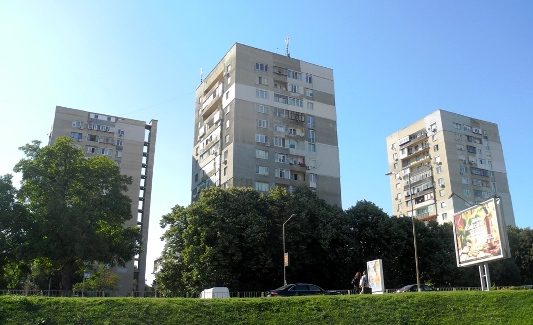 Although Bulgaria is a country with many green or mountainous areas, it has had to grapple with severe air pollution caused not only by old cars, but also by wood-fuelled heating systems, which are popular across the country. The European Environment Agency has recently rated the Bulgarian capital, Sofia, as the most polluted one in Europe. Last year, the conservative government of Prime Minister Boyko Borissov stepped up to the plate and announced the National Programme for Energy Efficiency of Multi-Family Residential Buildings (NPEE). Its aim is to provide billions of euros for making several thousand residential buildings energy efficient until the end of 2018 – with no charges to flat owners. The photo shows three blocks of flats awaiting modernisation. 
Photo: Frank Stier
At first glance, this kind of large energy retrofit project by the government seems to be a good thing. But the parliamentary opposition has had its doubts about the legality of supporting the renovation of privately owned flats with taxpayer money. And green building experts like architect Milan Rashevsky from the Sofia Institute for Zero Energy Buildings have criticised the NPEE for being "old school". "It focuses almost exclusively on energy efficiency measures, such as window replacements and wall insulation," he said to solarthermalworld.org earlier this year, "What it fails to implement are renewable energy systems like solar water heaters. We submitted our proposals, but weren't heard."
Third and improved REECL stage
Flat owners who aren't lucky enough to receive full government support for an energy retrofit of their property have to look for favourable alternatives. If they intend to modernise their residential property to save energy and money, they can turn to the Residential Energy Efficiency Credit Line (REECL) by the European Bank for Reconstruction and Development (EBRD). Of course, the credit line is not new: It was launched in 2005. But at the beginning of this September, Larisa Manastirli, EBRD Director for Bulgaria, announced REECL 3 as the programme's third and improved version. Until the end of 2018, it will make EUR 20 million available for loans supporting energy efficiency measures and another EUR 4.4 million in grants from the Kozloduy International Decommissioning Support Fund (for more information, please see the
database of incentive programmes
).
Benefits for homeowner associations and ESCOs
During REECL 1 and 2, loans and grants totalling EUR 83 million and EUR 20.2 million respectively had gone to more than 53,000 homeowners, according to data presented at the September event. Projects funded with these incentives saved households 238 MWh and 247 tonnes of emissions. It needs to be said that although a majority of the supported energy-saving measures consisted of heat pumps, biomass stoves and similar installations, there were quite a number of solar thermal units among the installed systems. "Solar projects added up to over 2,000 installations, whereas biomass stoves and boilers exceeded 4,000 units," Boris Petkov, Project Manager of the REECL for Bulgaria confirmed. There might be an even greater number of projects with solar collectors because when they are combined with new gas boiler or radiators, only the conventional part of the heating system is recorded as part of the statistics.
Most notably, the REECL 3 programme has extended the list of possible beneficiaries: Besides individual households, applicants eligible for loans and grants (after successful completion of the project) now also include homeowner associations and Energy Service Companies (ESCOs) focused on ecological benefits. To apply for loans, all of them have to write to the participating finance institutions, the Piraeus Bank Bulgaria or the United Bulgarian Bank. "I expect other commercial banks to participate soon," EBRD director Manastirli said.
"Implementing third-phase REECL projects will help us with the European targets regarding sustainable development," Bulgaria's Deputy Minister of Energy, Zhecho Stankov, said when the programme was launched at the beginning of September. "Decreased energy consumption and emissions will show Bulgarian households as ecologically responsible energy consumers," he hopes.
Websites of institutions and companies mentioned in the article: