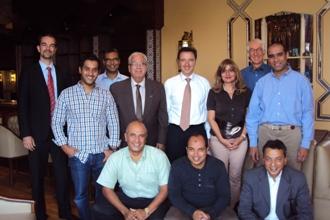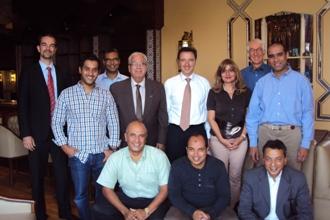 Egypt: Solar Water Heaters to Help Cut Down Energy Subsidies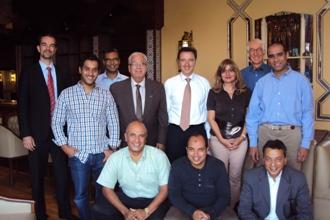 Egypt's tourism sector is about to become the first target group of an incentive programme and an awareness campaign for solar water heating. Ahmed El Sherif, Secretary General of the Egyptian Solar Energy Development Association (SEDA), considers this the first big political success of his non-profit association. The organisation was founded in 2010, just before the revolution, with support from the German Agency for International Cooperation, GIZ Cairo's private sector development programme. The photo shows the SEDA team at a workshop with international guests.
Photo: SEDA
The group, which has been very active in addressing politicians since its beginnings, has an important argument on its side, in addition to sustainability and ecology: As Egypt subsidises a large amount of its energy supply, the government has a big financial interest in promoting solar water heating and other renewable energy sources. Energy subsidies amount to Egyptian Pound (EGP) 95 billion per year (EUR 12.2 billion) – a third of the country's annual budget. Every litre of diesel that is imported for about EGP 4.5 (EUR 0.57) is sold for only EGP 1.5 (EUR 0.19).
It is hoped that the tourism sector will take a leading role in the promotion of renewables. The newly appointed tourism minister, Hisham Zaazou, has given sustainability a high priority. There is also a newly created "green tourism unit" within the Ministry of Tourism, which is thought to facilitate the sector's transition to a green economy. According to a statement by Zaazou in an interview with the American Chamber of Commerce, energy efficiency measures could save the tourism industry EGP 350 million per year (EUR 44 million).
"The government's plan is to eventually let those who can afford it pay for the energy. This mainly concerns the sectors of tourism and heavy industry," says El Sherif. Even today, different consumer groups pay different electricity prices. With certain tourism customers purchasing energy at around 0.7 EGP/kWh (EUR 0.08), the tourism sector has already been at the high end of industrial prices, which start at 0.3 EGP/kWh. Residential customers pay as little as 0.25 to 0.51 EGP/kWh, depending on how much they consume.
Still, energy costs in the tourism sector are too low for solar thermal to compete with conventional sources. This sounds as if incentives were needed to bridge the gap. "The support mechanism for the tourism sector is in its final stage. We expect it to be launched within the next three to six months," says El Sherif. The details are still under negotiation. The programme is said to include a subsidy component and further credit facilities. The design of the incentive programme was supported by the GIZ, and by Rafik Missaoui and Sami Marrouki. Missaoui and Marrouki had already helped design the PROSOL programme in Tunisia, which has increased annual solar thermal installations from 7,000 m² to 92,000 m² within five years.
In addition to the financial incentives, there will be an awareness campaign, which will target hotel owners, operations managers, operators, and operating and chief engineers. A capacity building programme, as well as certification and testing standards for suppliers, installers and MEP consultants are supposed to ensure the quality of the installations.
Currently, Egypt's solar water heating industry is "almost non-existent", says El Sherif. He estimates that there are 15 to 22 solar thermal companies operating in the country and that there are 8,000 m² of new installations per year. Most of these systems had been set up on new buildings of the upper-middle class and on hotels in the Red Sea area. "The market is simply dead and there is no attention devoted to it either. This is about to change drastically." One of the greatest obstacles besides the low energy prices used to be a lack of political will. This one, at least, seems to be overcome. As a next step, SEDA will need to address the lack of local suppliers and help develop technical and financial capacities.
Originally, SEDA was the result of an innovation network for solar water heating. The network was part of a private sector development programme dating back to 2005. It was financed by the German Ministry for Economic Cooperation and Development (BMZ), and implemented in cooperation with the Egyptian Ministry of Trade and Industry (MTI), with technical assistance provided by the GIZ. Some of the people involved in that programme founded SEDA as an NGO with the aim to promote solar energy in general and solar water heating in particular. "We wanted an entity which could speak to the government, and perhaps get involved in mechanisms and programmes receiving donor funds for market incentive programmes. Also, the organisation was to address capacity building programmes for installers, for product and supplier certification, for product standardisation and market awareness campaigns," El Sherif says and adds that SEDA served as a platform for all industry stakeholders (component manufacturers, traders, development agencies, scientists, financial institutions, even governmental entities). Today, SEDA is an independent organisation with a three-year roadmap and a mission, which El Sherif specifies as follows: "To meet Egypt's energy challenges, it will be necessary to increase the share of solar energy in heat and power generation and to facilitate active cooperation among key stakeholders. Supporting joint efforts will help promote active research, national market development campaigns, as well as capacity building mechanisms that have social, economic and environmental benefits."
Contact and more information:
SEDA: http://www.seda-eg.com/
PROSOL programme in Tunisia: http://www.solarthermalworld.org/content/prosol-successful-grant-and-credit-programme-tunisia
GIZ: globalconnect.giz.de/en/regions/your-contacts/egypt.html