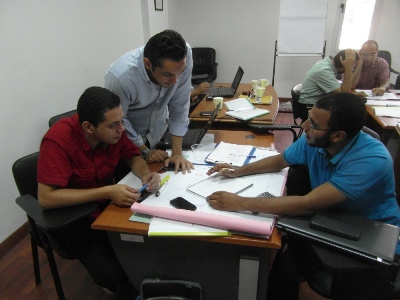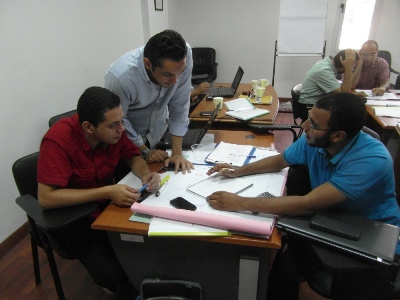 Egypt: Aiming at High-Quality Supply Chain
Solar energy is becoming an increasingly attractive and feasible option for many applications in Egypt against a backdrop of rising energy prices across the country. In July 2014, the long-announced first step of reducing fossil fuel and electricity subsidies resulted in a new energy price hike. According to the Chairman of the Solar Energy Development Association (SEDA), Khaled Gasser, diesel prices have jumped by 70%, the ones for petrol by, on average, around 40%, whereas natural gas prices have risen by 30 to 70 %, and electricity is now 25 % more expensive. The next challenge is to develop a high-quality solar thermal supply chain from system providers to certified installers
.
Photo: RENAC
"SEDA started training at the beginning of the year, and the training test rig for solar thermal and photovoltaics has already arrived, so we are negotiating with the Ministry of Industry to offer approved accreditation courses for both installers and design engineers," Gasser explains the long-term objectives.
The main partner for solar thermal training is ROSAE, the RENAC-OASIS Solar Academy Egypt, a partnership between the German Renewables Academy (RENAC) and Oasis Renewable Energy based in Cairo. ROSAE already conducted two Train-the Trainer programmes on solar thermal in April and June this year (see the photo above). The programmes were free of charge, except for the cost of catering, and were supported by the German Agency for International Cooperation, GIZ. ROSAE selected 12 candidates who successfully participated in the programme and received a trainer certificate.
Five-day Solar Thermal Engineer training in Cairo
What's next? The new trainers are now thought to hold training courses themselves. "In cooperation with SEDA, we will conduct two training sessions on solar thermal energy in Cairo this October," Christof Schneider, Project Director at RENAC, says. "Solar Thermal Overview will take place on 21 and 22 October, and will be followed by Solar Thermal Engineer from 26 to 30 October."
The two-day Solar Thermal Overview course is intended for professionals hoping to acquire the basics of solar thermal system technology, as well as employees of public institutions and investors. It will provide insights into how the technology works, and upon completion, participants are said to be able to describe components, system configurations, design fundamentals and the economics of solar thermal projects.
The five-day Solar Thermal Engineer course, on the other hand, is going to include extensive practical training, and the trainers will elaborate on how to properly design, install, operate and maintain solar thermal systems. As part of the course, a full-day sizing workshop will offer the opportunity to apply the previously taught sizing methods.
The upcoming ROSAE courses are also open to participants from other countries. The courses will be held in English, as RENAC staff will be present to provide feedback to the trainers. In the future, ROSAE staff is also going to offer courses in Arabic. For more information about the participation fee and the course location, please see the following web page:
http://www.renac.de/en/current-projects/solar-academy-egypt.html&nbsp
;
More information