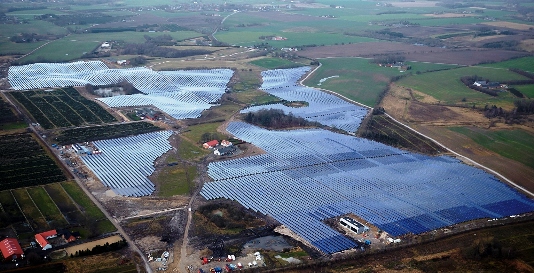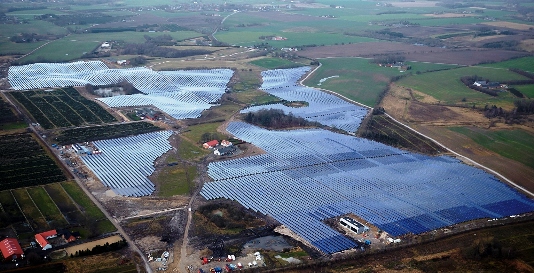 Denmark: New Solar District Heating World Record
The Danish town of Silkeborg now holds the record for having the world's largest solar heating system. The SDH plant of 156,694 m² (110 MWth) came online as scheduled in December 2016 after only seven months of construction. Municipal utility Silkeborg Forsyning intends to use the harnessed solar energy to meet 20 % of the annual heating demand of the 21,000 plant-connected users. The solar field was divided into four subfields to make it possible to set up the installation and hydraulics systems on this irregularly shaped piece of land (see photo). The former record holder is another installation in Denmark, in Vojens, boasting 70,000 m² (48.90 MWth) of installed solar thermal capacity. Both plants were turnkey deliveries from Danish collector manufacturer Arcon-Sunmark. 
Photo: Arcon-Sunmark
In a press release sent out on 9 January 2017, Arcon-Sunmark confirmed that the contract with Silkeborg Forsyning had been signed in February 2016 and construction had begun last May. A mere seven months of work translates into an installation and hydraulic linkage of more than 20,000 m² of collector area per month.
The collector supplier's wealth of experience allowed for strict adherence to the schedule and the field did come online as planned in December 2016. In the press release, Arcon-Sunmark said that it had built more than 100 solar heating systems above 1,000 m² since its foundation in 1988, which adds up to more than 1 million m².
Websites of organisations mentioned in this article: