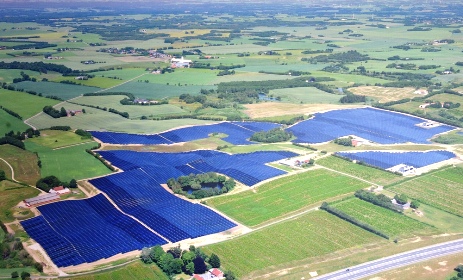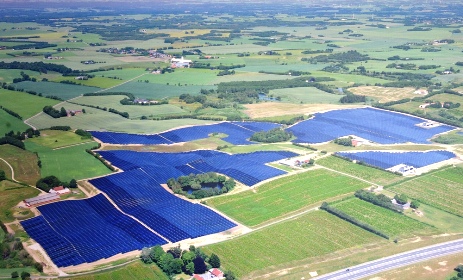 Land secured for Big Solar Graz
Big Solar Graz has reached a significant milestone by purchasing the land on which to construct a solar field and a seasonal storage system. In mid-June, the project partners told the local press that they had bought 55 hectares in the south of Graz, in the Austrian state of Styria, between the city's airport and the A9 motorway. A flyer by the region's public utility, Energie Steiermark, stated that the area was large enough to accommodate a 220,000 m² solar field (154 MWth) and 900,000 m³ of seasonal storage, including three ponds. It has been modelled on the world's biggest solar district heating plant to date, a 110 MWth installation in the Danish town of Silkeborg (see photo).
Photo: Energie Steiermark
Besides the regional utility, three companies are part of the consortium carrying out the project. First, there is Danish VKR Holding, with its subsidiary Arcon-Sunmark, a collector manufacturer and supplier of large-scale turnkey systems. Then, there are two Graz-based businesses, industrial services company Christof Industries and project developer S.O.L.I.D..
As early as April 2016, Energie Steiermark had announced plans for building a solar district heating system that could provide 25 % of the demand met by Graz's large district heating network. S.O.L.I.D., which conducted the initial feasibility study, named the effort Big Solar and said the investment would amount to EUR 196 million.
Land availability is one
major barrier
to deploying solar district heating and often a challenge for municipalities to overcome. That Graz had secured property rights early in the planning process shows just how committed the city has been to the project.
However, the relatively moderate size of the purchase will only allow for the installation of a much smaller solar district heating system than what had been envisioned as part of the S.O.L.I.D. study in 2016. Instead of a 450,000 m² solar field, recent press releases included references to as little as 200,000 m². The tank was said to store 900,000 m³, while it had originally been planned to hold 1.8 million m³ (see the table below).
| | | |
| --- | --- | --- |
| | System size as projected in 2016 | Current specifications after land purchase in mid-2018 |
| Investment | EUR 196 million | EUR 100 million |
| Seasonal storage tank | 1.8 million m³ | 0.9 million m³ |
| Solar field | 450,000 m² | 200,000 m² |
| Annual solar fraction | 25 % (est.) | 10 % (est.) |
| Heat pump capacity | n/a | 30 MW |
| Average yearly solar heat supply temperature | 85 °C | 85 °C |
Key figures of Big Solar, according to different planning stages
Source: S.O.L.I.D. regarding figures for 2016 / Energie Steiermark for 2018
"Over the next months, we will get to the technical details and the permits. Construction is planned to start in 2019," Christian Holter, Managing Director of S.O.L.I.D., said. "Another important milestone will be to secure financial support from the government. We need a 20 to 30 % subsidy," Martin Graf, Executive Board Member at Energie Steiermark, was quoted as saying in an interview with local newspaper Kleine Zeitung on 13 June. "We're currently in informal talks with the state government about that." The primary aim of the utility is to offer green district heat at affordable prices to all 44,000 customers connected to the grid throughout the city.
Organisations mentioned in this article:
de.arcon-sunmark.com/