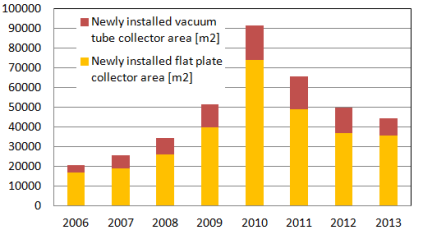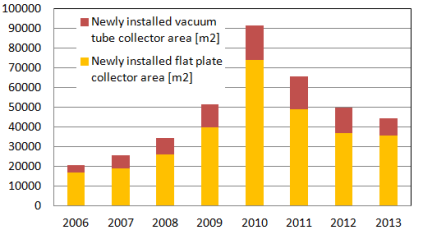 Czech Republic: "Low financial support and high administrative burden"
Almost a year after the first call for applications for Czech support scheme Nová Zelená Úsporám (New Green Savings programme) in August 2013, the same negative attitude still pervades the solar system supplier segment. Companies have especially criticised the low financial support and the high administrative burden. The second call of the programme started on 1 April 2014 under the same dissatisfying conditions for solar water heating systems. The Czech Republic's market volume saw another drop in 2013, this time by 11 %, as can be seen on the chart from the Ministry of Industry and Trade. "Although the sales of domestic companies are shrinking at an alarming rate each year, there are new companies, including online-only shops, which import collectors from China," Aleš Bufka, who is responsible for the national solar statistics at the Ministry of Industry and Trade, explains. "The customs statistics show many small units by private persons. It seems that people purchase imported collectors to cover their personal demand."
Source: Ministry of Industry and Trade
Vít Prečan, Sales Manager at TWI, one of the biggest solar thermal manufacturers in the Czech Republic, mostly complains about the amount of paperwork which hasn't got smaller since the first call. Applications require very precise and in-depth information on the system to guarantee the customer a certain quality. But Prečan also says that solar system suppliers need about twice as long for every installation.
Clients troubled by extensive paperwork
"Low financial support and high administrative burden," is how Radek Fiala sums up the situation in one sentence. The Sales and Technical Department Manager at 4T, a solar thermal importer, says that many people buy a solar thermal system without applying for subsidies and this for good reason: To receive the maximum subsidy of Czech Crown (CZK) 35,000 (EUR 1,274), customers need to invest over CZK 80,000 (EUR 2,912) in a solar thermal system. However, if the household consist of only two people, a system for CZK 56,000 to 65,000 is often enough. Considering the extensive paperwork, the 40 % subsidy just isn't that attractive to many clients, especially when they need to pay between CZK 5,000 (EUR 182) and CZK 8,000 (EUR 291) for an energy audit.
But it is not only the industry which blames the "fathers" of the current support scheme. Criticism can also be heard from former political leaders, such as Martin Bursík, formerly Czech Minister for the Environment and Deputy Prime Minister. Bursík was the man who devised and politically enforced the original Zelená Úsporám in 2009. "Conditions have been specified in a way that prevents the programme from becoming widespread, because the funds of Nová Zelená Úsporám are very limited," Bursík says. The former minister for the environment points out that the current programme budget of CZK 1 billion (EUR 36.4 million) is 20 times smaller than the CZK 20 billion (EUR 728.2 million) the original Zelená Úsporám had available. "Former Environment Minister Tomáš Chalupa approved a gradual purchase of Assigned Amount Units (AAUs), meaning that funds do not need to be present at the beginning of the programme," Bursík lists one of the positive aspects of the new regulations. "But most importantly, by purchasing Assigned Amount Units (AAUs), companies no longer need to compensate for all the CO2 they produce," the former minister explains. "That just increases the margins of big industrial companies, but cuts state revenues in half. As Nová Zelená Úsporám is only financed by AAU sales, this has very much put a strain on the available resources."
"Chalupa then proposed a bill, saying that 35 % of the revenues from AAU auctions would be provided to the Ministry of Industry in 2014-2015 and 40 % of it between 2015 and 2020," Bursík criticises as well. "By doing that, he stripped the programme budget of another 35 to 40 % of its funds."
More information:
http://www.4t.cz
This article was written by Vladislava Adamenkova, a freelance writer on the solar thermal sector with a focus on the markets of Eastern and South-East Europe.