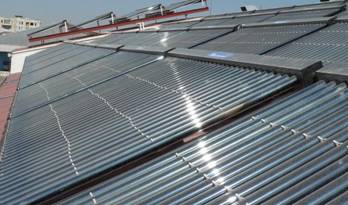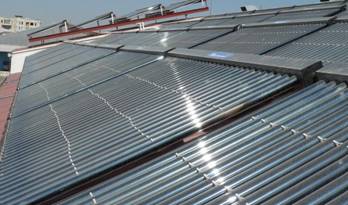 Solar Cooling Installation
Cyprus: 4th International Solar Air-Conditioning Conference in Lanarca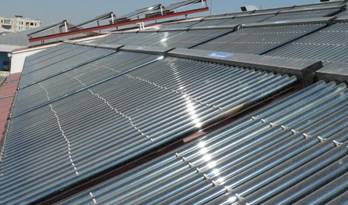 Following Bad Staffelstein (Germany, 2005), Terragona (Spain, 2007), and Palermo (Italy, 2009), the 4th International Solar Air Conditioning Conference will now take place in Lanarca, Cyprus, from 12 to 14 October 2011. Over the years, the conference has grown into an important event, at which scientists and industrial researchers, product manufacturers, building designers and planners, contractors, and installers have met to exchange knowledge and experiences. The complete conference schedule is now available for download – and also attached to this news piece.
Photo: Zenith Consulting Engineers
The conference covers a wide range of topics concerning solar cooling and solar air-conditioning: from political frame conditions to practical experiences, as well as standardisation and quality management. The conference has again a very international background: There will be presentations held by speakers from countries as far as Australia, China, Egypt, Mexico, Puerto Rico and Tunisia.
The conference includes a technical tour to the new environmentally friendly exhibition building by GEVO in Limassol. This project combines the rational use of energy with the implementation of several new technological systems utilising renewable energy sources. The building has been used to exhibit sanitary wares, fittings and building materials since November 2010. Basically, its heating, cooling and domestic hot water production demands are satisfied by the solar air conditioning system, which is backed up by a high efficiency, geothermal closed loop heat pump chiller. This particular combination of CO2 emission-saving renewable technologies has been the first of its kind in Cyprus. It covers 95% of the building's annual needs for air conditioning and domestic hot water.
Cyprus has gained the global pole position with regard to the highest collector area in operation per inhabitant. The first commercial solar air conditioning system was installed five years ago, and it is estimated that by the end of 2011, at least another 10 systems of various solar collecting technologies and array sizes will be in operation. The involvement of the newly established academy community of Cyprus, with its two State Technical Universities, is thought to contribute significantly to the increase of know-how by means of scientific observation, research, and development – as both universities have acquired small solar air conditioning systems themselves.
More information:
http://www.otti.de/de/veranstaltung/id/4th-international-conference-solar-air-conditioning.html