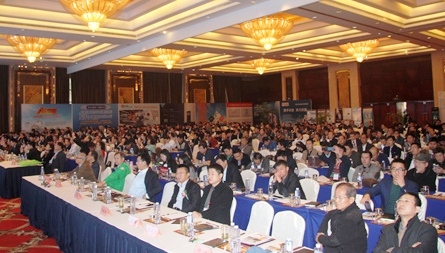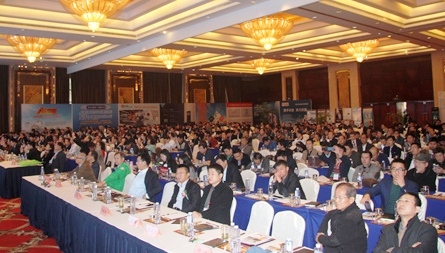 China: "Now we should concentrate on technological progress and new applications in industry and agriculture"
Last year's decline in the Chinese solar thermal market was greater than expected: Statements by the Chinese Solar Thermal Industry Federation during the annual assembly in Suzhou, Jiangsu, in November 2015, indicated that around 43.5 million m² had been newly installed in 2015 – 17 % less than in the previous year. Back in October 2015, solar thermal analyst Hongzhi Cheng expected the market only to drop to 50 million m². The figures gathered by Cheng and his Sun's Vision team for 2014 had totalled 52.4 million m², which is also a reduction by 18 % compared to the year prior.
Photos (2): CSTIF
According to Sun's Vision´s market statistics, the share of flat plate collectors in the total newly installed collector area was 12.7 % in 2015, up from 8 % in 2010. The entire newly installed flat plate collector area last year was 5.5 million m², which means installations were back to the level of 2012, after a peak in 2013 with 7.6 million m².

| | | |
| --- | --- | --- |
| | 2015 | Share |
| Newly installed vacuum tube collectors [m²] | 38 million | 87.4 % |
| Newly installed flat plate collectors [m²] | 5.5 million | 12.7 % |
| Newly installed collector total | 43.5 million | |
| Installed collector area in engineering | 26.535 million | 61 % |
| Installed collector area in retail | 16.965 million | 39 % |
Market figures for 2015 provided by Chinese market research agency Sun's Vision.
The annual industry meeting gathers hundreds of industry stakeholders in a different city every time, and it is organised by CSTIF in cooperation with the China Association of Rural Energy Industry (CAREI). The Secretary-General of CSTIF, Tieying Jia, reminded the association's members of the more than 30 years of great engagement and hard work which have propelled the Chinese solar thermal industry to the number one in the world. The industry forum was entitled China's Annual Solar Thermal Industry Conference 2015 and Forum for Solar Thermal Industrial Development under the Thirteenth Five-Year Plan. There were several prominent representatives of the solar thermal industry among the invited guests:
Huang Ming, Chairman of Himin Solar,
Xinjian Xu, Founder and President of Sunrain Solar Energy
Yongwei Huang, Chairman of Huayang Solar
Bin Wang, General Engineer at Sangle Solar Energy
Su Ming, General Manager at Linuo Paradigma
Cuiying Cheng, Chairwoman of Tianpu New Energy
Feng Zhao, Chairman of Sunshore Solar
Guangliang Hu, Chairman of Guangdong Fivestar Solar
Xiaoli Zhang, Executive Director of the Chinese Solar Thermal Industry Federation
"In 2015, the Chinese solar thermal industry was under pressure from the difficulties of the world economy and the slow-down of domestic economic development," CSTIF's Executive Director, Xiaoli Zhang, said. "We should now concentrate on technological progress and new applications in industry and agriculture." Obviously, the decline in the residential sector's retail business was not offset by the rapidly growing segment of commercial projects in urban areas.
Strong government support needed to achieve 13th Five–Year Plan targets
"Innovation is the only way to success, this seems to be the consensus in most companies," Zhang emphasised. The CSTIF executive director lauded that ten manufacturers in the province of Shandong had joined forces to counter the strong price competition, with the objective to protect the reputation of the industry and the interests of consumers.
The upcoming 13th Five-Year Plan was mentioned by most of the speakers at the CSTIF assembly. The currently available draft includes an ambitious solar thermal objective of 500 million m² of newly installed collector area between 2016 and 2020, which means 100 million m² per year. "By 2020, solar thermal energy should substitute about 108 million tons of standard coal. This is a huge challenge," market analyst Hongzhi Cheng, Head of The Sun's Vision consultancy, explained in the middle of March. "The government plans to break down the target by application – solar water heaters for buildings, solar process heat, solar air conditioning, agricultural drying, solar ovens, as well as other aspects. To achieve these goals, it needs strong government support."
"The 13th Five-Year Plan gives solar thermal technology the role of the main force behind energy conservation," Dr Tao Kong from the National Energy Board's New Energy and Renewable Energy division underlined during his opening speech during the CSTIF assembly. To take this great responsibility serious, the association should focus on product quality improvements and market analysis. "CSTIF should analyse the market well and organise seminars related to space heating applications and international cooperation," Kong added.
Websites of the associations mentioned in the text: