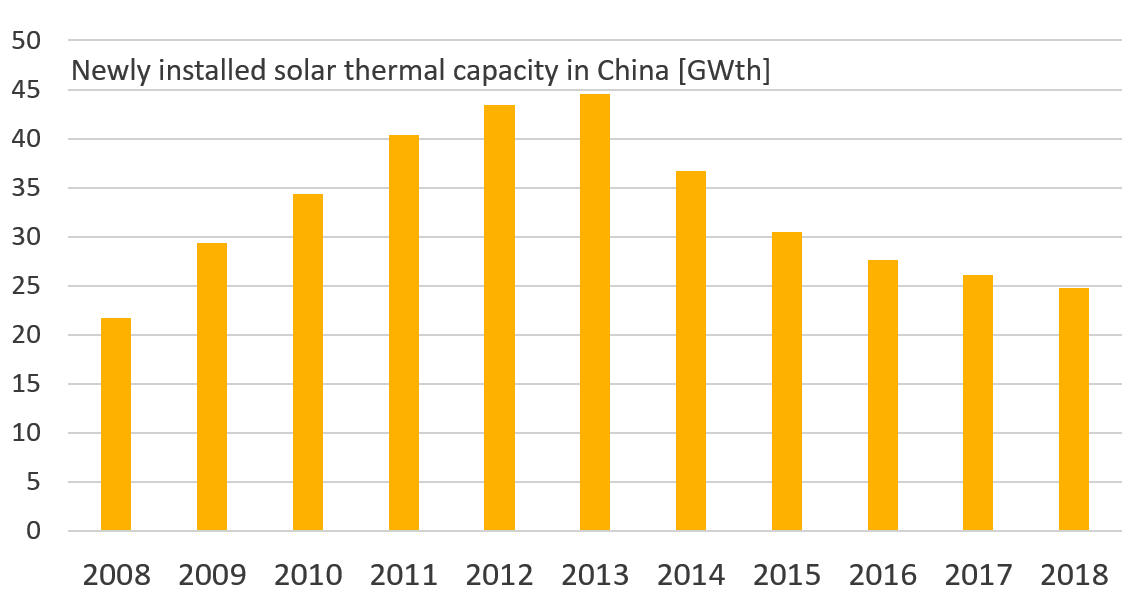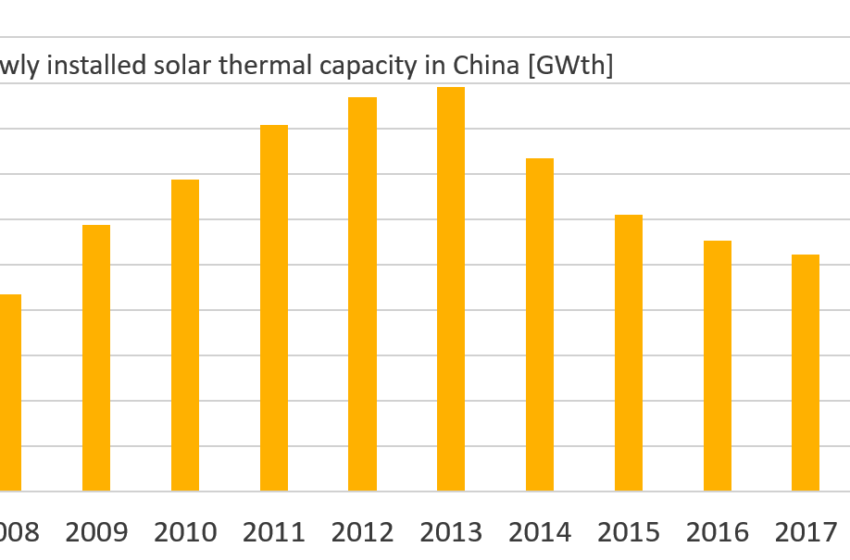 "Growing competition from heat pumps and gas boilers"
The Chinese market for solar thermal systems has nearly been cut in half since the peak year of 2013 and is almost back to 2008 levels. There were multiple reasons for the steep drop in sales, according to an interview with Hongzhi Cheng, Managing Director of consultancy Sun's Vision based in Dezhou, China. Each year, he and his team prepare the national statistics that are later published by CSTIF, China's solar thermal industry association. After 2012 and 2015, this has been solarthermalworld's third talk with Cheng about Chinese market figures.
Source: Sun's Vision

Hongzhi Cheng, Managing Director of consultancy Sun's Vision
What were the reasons for the rapid decline in sales between 2013 and 2018, when China's market shrunk from 44.5 GWth to 24.8 GWth?

Cheng: There were some homegrown problems, such as a lack of innovation and technical advances in the industry. The manufacturers sold the same products they had been selling for years. On the other hand, their durable products didn't need upgrading, and the residential market became saturated. The competition from gas and electric boilers was growing too.
What impact did this notable decline have on the solar thermal industry?

Cheng: Many companies switched industries or diversified their portfolio, for example, by adding kitchen or bathroom appliances. Those remaining in the industry had a very rough time. In 2012, we counted about 2,000 solar thermal businesses across the supply chain. In 2018, only about 450 manufacturers of systems and components were assumed to be operating in the market. The large drop in sales then pushed the solar thermal industry out of the public eye. Also, in some regions, solar building regulations were ruled unlawful and property developers were not focusing as much on solar water heating technologies as they used to. This trend was exacerbated by the fact that facade-integrated solutions are challenging to implement.
Did solar thermal system suppliers increase their exports to offset low demand at home?

Cheng: No, not really. Companies rather diversified their portfolios. The export market did not fluctuate much in recent years. Unfortunately, reliable export figures are not available.
What is driving the growth of the flat plate collector market in China?
Cheng: What we are seeing now is a big shift in product strategy. In the first decade, the fast-growing solar thermal market was dominated by vacuum tube technologies, which grew too fast and captured too much of the market. Flat plate collectors have demonstrated that they have advantages in combination with high-rise buildings, giving their manufacturers a chance to win back the market. We expect this development to continue until the technologies have reached a 50 % share. Flat plate collectors contributed 18 % to the total solar thermal collector area added in 2018.
Besides Inner Mongolia and Tibet, which provinces have been supportive of solar district heating?
Cheng: SDH is also receiving financial support in the northern provinces of Shandong, Hebei and Beijing. However, there have been few demonstration systems, and the technology still needs to be improved.
This interview was conducted by solar thermal professional and solrico partner Yaping Zhang in China.