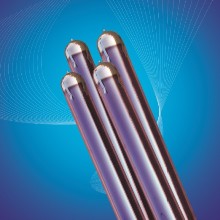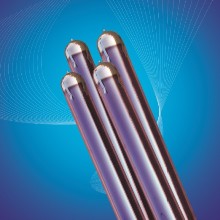 China: New Titanium Coating by Linuo Solar Thermal Group
After the Group's new vacuum tube titanium coating has proven itself on the Chinese market for the past year, Linuo Solar Thermal is thinking about introducing the product also on international markets. One of the biggest manufacturers of vacuum tubes in China has so far used an aluminium-based coating for all its products. The new coating of the Sunrain group – presented at the company´s 10-year anniversary in December 2010 – is said to be based on titanium as well.
Photo: Linuo Group

"Titanium will become the standard coating material of our tube technology," Thomas Weidemann, Head of Product Management Solar Thermal Systems at Ritter Energie- und Umwelttechnik, which has had a joint-venture with the Linuo Group since 2002, explains. "The results have so far indicated that the production process of the titanium coating is much more reliable than the one previously used for the aluminium coating". Both coatings – aluminium and titanium – are highly selective. The new titanium coating can achieve 96 % absorption and 6 % emissivity.
The Linuo Solar Thermal Group, former Linuo New Material, runs 200 production lines for evacuated double-glass tubes, enabling a capacity of 50 million tubes annually. These figures come from a speech that Ni Chao, Member of the Board of Directors and Vice President of Linuo Paradigma, the joint-venture of the Linuo Group with the German Ritter Group, made at the international conference SMEThermal in Berlin 2010.
Linuo's first fully automated production line for vacuum tubes was commissioned in March 2010 and inaugurated in July the same year. The factory is located in the city of Zhangqiu, Shandong province. The lines combine all of the production steps within one long factory hall – from melting the glass to packing the coated and evacuated double-glass tubes.
One of the major production line features is the multi-chamber coating machine: Purchased by Chinese machinery suppliers, it can coat simultaneously while already bringing the next batch of vacuum tubes to the required vacuum level. The plant has so-called 'vacuum locks' in the front and back of the coating chamber.
The new titanium coating is sputtered in one vacuum chamber alone. It is a 2-target coating, which includes an infrared-reflecting layer and an absorption layer. The latter is produced with a titanium target together with specific gases, which are gradually let into the coating chamber during the process. One tube out of each batch is measured directly after the coating process for its absorption and emissivity. One batch consists of 36 to 42 tubes.
More information:
http://www.ritter-gruppe.com
http://www.linuo-paradigma.com
http://www.ln-solar.com