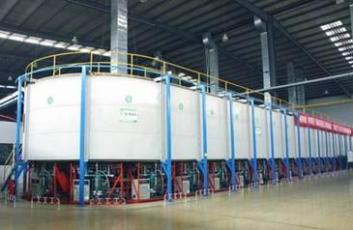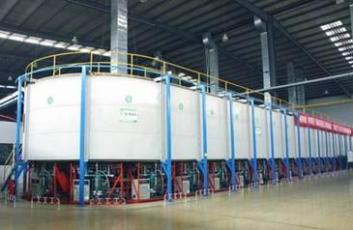 Himin: Automating Production in Dezhou's Solar Valley
Himin's large scale production in China: The company is now running two entirely automated production lines  for vacuum tubes. The photo above shows the evacuation line. Photo: Himin
"Keeping up with growth rates" is the overall strategy of the Himin Solar Energy Group, one of China's biggest manufacturers and suppliers for solar water heaters with vacuum tube collectors. The group possesses three solar water heater and three vacuum tube factories in the so-called China Solar Valley of Dezhou City in Shandong Province. New factories are already under construction and expected to be up and running by next September, when Himin will host the International Solar Cities Congress at its newly built congress centre (for more details, see the news piece "Milestone in Solar Architecture: Himin's Start of a Solar Valley").
Dezhou is also the place, at which the company implemented its first automated production line for vacuum tubes in April of 2007. Since then, it has already set up another second production line and some more are still under way. As a member of the department for the company's international business pointed out: "Consistent quality in evacuation and sealing, an increase in output and a decrease in energy consumption", are just some of the advantages gained by automation.
For instance, it is now possible to greatly reduce the number of workers at the single lines, for example: The cleaning line needs only 3 people today, compared to the 10 people it required before automating the process. Every tube is cleaned eight times, first with tap water including a special detergent, and later with deionized water. After drying the glass tubes, they will be sent to the coating line via a closed corridor, therefore avoiding contamination by dust, and other particles floating in the air.
According to the factory supervisor, one automated vacuum tube line has a planned daily capacity of 20,000 tubes – the same output for which you required 27 units of manual coating machines before automation. All in all, Himin's production capacity at Denzhou amounts to more than 1 million solar water heater units per year.
The group itself has a strong brand name in China. It produces neither OEM vacuum tubes nor OEM vacuum tube collectors for China's domestic market. All products leaving the factory in Dezhou are sold under its own brand name. A market survey by the international magazine Sun & Wind Energy lists Himin's solar water heaters as the most expensive ones in China, costing Chinese Yuan (CNY) 3,000 per system, including installation (around EUR 300). The cheapest system of the survey is at CNY 600 (EUR 60).
More information:
http://www.himin.com