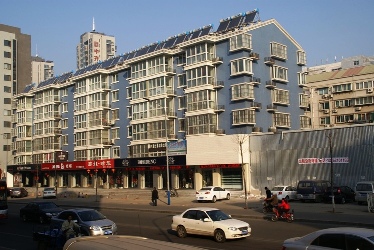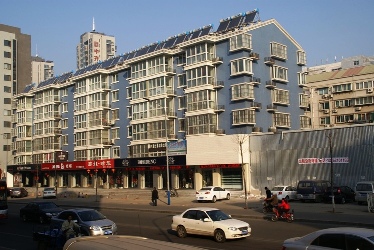 China: Beijing Mandates Solar Hot Water Systems
On 1 March 2012, Beijing followed many other large Chinese cities in introducing its own solar thermal mandatory law. The new regulations are stipulated in document No. 3/2012, "Beijing Urban Construction Applications Management Approach". Article 9 describes the scope of the new regulations: Newly built residential houses of up to 12 floor – as well as hotels, schools, hospitals, and swimming pools – are obliged to install a solar thermal hot water system if no waste heat is used to cover domestic hot water demand. The photo shows a block of flats in the city of Jinan, 400 km southeast of Beijing, in which a solar obligation has already been in place for several years.
Photo: Bärbel Epp
The new requirements in Beijing are thought to improve life quality across the city and promote energy-saving measures. Since 2007, many local governments at the provincial and municipal level have implemented mandatory laws. Fude Li, Project Engineer at Linuo Paradigma, says about Jinan's solar obligation: "As a builder, you do not receive a building permit by the municipality unless you have demonstrated how you can integrate solar hot water into the building. After the building has been completed, municipal inspectors visit the site." In Beijing, the Municipal Bureau of Quality and Technical Supervision is said to be responsible for the review and approval of applications and installations. 

Document 3/2012 also includes a separate section about multi-family houses. At least two thirds of the flat owners in a multi-family house have to agree to the installation of a centralised or decentralised solar hot water installation. Only then will the housing company be allowed to install a solar thermal system for the entire building, with the costs having to be split among the flat owners themselves. 

To limit the risk for the housing company when investing in solar energy, it has been suggested to employ the so-called smart card billing. In this case, the tenants pay the measured hot water demand of their single flat and the running costs for maintenance and repair work upfront, either per month or year.

The city has also announced financial incentives for the multi-family housing sector. To apply for these investment subsidies, the project has to include more than 50 m² of collector area and fulfil the municipal's requirements. Further details, however, have not been published yet. 
According to web portal
http://www.21tyn.com
, Beijing's solar obligation is one of the measures designed to fulfil the city's 12
th
Five Year Plan, which was released in December 2011. The Beijing Municipal Commission of Development and Reform aims at reaching a total installed collector area of 10.5 million m², of which 5 million m2 have already been installed in the rural areas around the city. The metropolitan area of Beijing has 19.6 million inhabitants and is the second largest city after Shanghai with a population of 23 million. 

Online articles about the solar obligation (all in Chinese)